RRU Executive Coaching Certificate program celebrates 20 years
Topics
Featured
Share online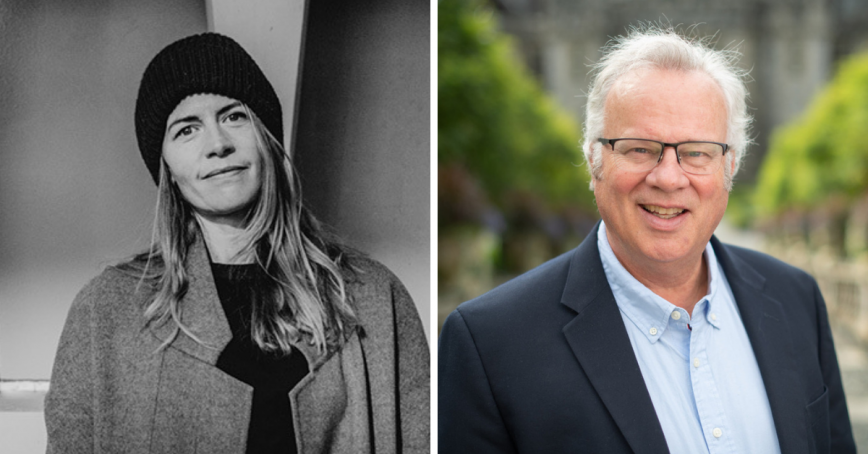 Jenna Hills was well into a 15-year stretch working in training and leadership development at Lululemon when, one day, a new colleague put a name to the work she was doing: coaching.
That word set her on a professional path that would eventually take her away from the Vancouver-based international athletic apparel retailer and lead her to start her own business — and it would include a stop at Royal Roads University, where she earned a Graduate Certificate in Executive Coaching (GCEC) in 2016.
The RRU program, which celebrates its 20th anniversary this fall, fit her criteria like a pair of yoga pants: She wanted the training and knowledge; she aimed to network and meet others who shared her passion; and she desired a credential that demonstrated she was qualified in her profession.
"The program, well, it gave me my whole livelihood, it put me in a whole new conversation," Hills says. "Since I've graduated, I've had a full practice. I stepped right into what is really needed, which is working with high-level, high-functioning, powerful leaders who want to achieve incredible things."
Her clients are, mainly, large organizations that have leadership development budgets and need her to support their talent; or start-up founders, with whom she works on curriculum development, training and strategies prior to launch.
"We all have blind spots, and the role of the coach is to partner with people's vision and support them in seeing what they can't see," Hills says. "And [the RRU program] gave me all the tools to do that and more."
An evolving profession and program
Scott Richardson was already doing executive coaching while working for the National Energy Board in the 1990s and left to pursue the profession full-time in 1999, the same year he began a Master of Arts in Leadership at Royal Roads. Soon after, he was brought on board as RRU prepared to launch the GCEC program in 2001. Except for a short break in the early 2000s, he has been an associate faculty member ever since, in addition to running his own coaching business; as well, he's currently the program's director of training.
Asked about the maturity of the profession 20 years ago, and looking back on the program's early days, he says, "There was obviously a growing community" around executive coaching.
Since, "Executive coaching has taken off. Leadership coaching has taken off. If you want to be the best in your field, get a coach," Richardson says, noting that many large organizations retain internal coaches and even the BC government has a roster of 20.
Just as the profession has evolved, so have both the students and the program.
The former group — some 1,700 people have gone through the program in the last two decades — comprises mostly mid-career learners, although the average age is dropping as more people see coaching as a career path, he says. Still, some don't take on coaching formally, but pursue the certificate to become better business leaders.
"Apart from the ticket, apart from learning a new profession, apart from improving your skills as a leader… people are emerging and finding they know how to listen better, they know how to engage with people better."
Similarly, the GCEC program has progressed. For instance, in 2009 the business application team assignment was incorporated, requiring reams of students to market their services as executive coaches to non-profits. And recently, there has been a focus on expanding, and one recent focus has been on expanding understanding of diversity, equity, inclusion and belonging (DEIB), Richardson says, noting it's crucial that people with different life experiences, different ethnic backgrounds and different abilities all feel at home in the program.
"We've really prided ourselves on creating that sense of belonging [in the program]. What we are doing now is really focusing on this DEIB to ensure we keep our standing as being a place of belonging."
As Zoë MacLeod, RRU's associate vice-president, Professional and Continuing Studies — and a certified executive coach herself — says, "Adapting the program to ensure that we are educating and equipping our faculty and students with skills to meet the future of the profession is a key priority."
Coaches help leaders become agile, open and connected
That willingness to learn and change is essential, says Hills.
"Who you need to be as a leader is agile, open, grounded, self-aware, connected, present. You need incredible communication skills," she says. "Those soft skills… that ain't soft skills anymore, that's a critical component of being able to lead in the future. And coaching, that's what it does, it causes leaders to be all those things through their coaching relationship."
In fact, Hills believes so strongly in the value of coaching and the benefits she received in Royal Roads' certificate program, she's signing up for the university's recently announced Master of Arts in Executive and Organizational Coaching program, which launches in spring 2022.