Royal Roads alum finds that MBA applies to ministry
Topics
Featured
Share online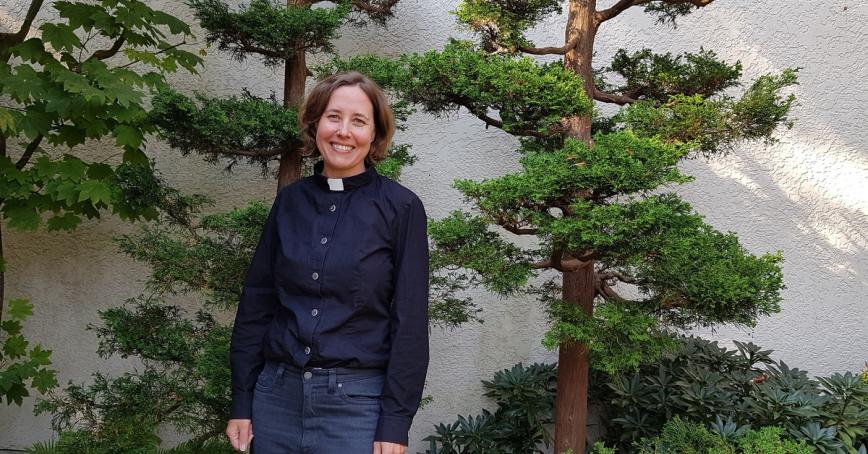 As an Anglican priest, there are some big challenges that keep Alecia Greenfield contemplative and motived – the climate emergency, homelessness, and even Christians' relationship with creation.
Surprisingly, she says it's her Master of Business Administration from Royal Roads University that she leans on more than anything when trying to come up with solutions.
She credits her education, and Assoc. Prof. Amy Zidulka's class on creative problem solving, for giving her the tools she needed to run her ministry.
"Amy taught this creative solving process, which has its circle of things that you do," says Greenfield, who is the vicar at Holy Cross Anglican Church in Vancouver, BC. "Start with understanding the context and then creating the question with a process of convergent and divergent.
"When I wake up in the morning, and this problem feels so overwhelming because I don't have a solution – knowing that I don't need to have the whole solution…I have a process that I can go through to come up with ideas, is just such a relief."
Greenfield works in the climate space within her Anglican ministry – she is the chair of the Anglican Diocese of New Westminster Response to Climate Emergency and sits on the Ecclesial Province of British Columbia and Yukon Social Eco-Justice Working Group. Recently her work in the climate space included developing eco-pilgrimages – an outside-of-the-box solution, to encourage Anglican attendees to be out and experience the world so that they can place themselves in relationship with creation.
"This year, we had local pilgrimages mostly with an ecological bend across the province," Greenfield says. She explains that they had one in Terrace, Sorrento, a couple in Vancouver Island and across the lower mainland. "The reports are that people are feeling changed… more curious about who they are…and who they are in relationship with land and place."
Zidulka and Greenfield's relationship has continued past her time as a student at Royal Roads – Zidulka was the keynote at the Anglican Diocese of New West Minister's Missionary and Ministry Conference. Zidulka has helped organize the day, with a focus on fostering collective creativity.
But being part of this, was something Zidulka, who is not religious, was initially nervous about.
"When Alecia first contacted me, I couldn't understand how I could be involved in an Anglican Mission conference," Zidulka says. "I was flattered but confused. Through working with the conference organizing committee, I came to understand how delving into the creative process could help engage people in meaningful conversations and open dialogue around new possibilities."
The conference used creative problem solving to foster conversations around how participants, as Anglicans, might address social issues, such as homelessness and the climate crisis — as well as approaches to deepening spiritual practice.
Organizing the conference was, in itself, a creative collaboration.
Something Zidulka finds particularly gratifying is working in an MBA program that attracts students from diverse backgrounds.
"The Royal Roads MBA attracts such a diversity of people," Zidulka says. It's amazing that Alicia can bring MBA models into her work as a priest and use them to foster social and environmental betterment and spiritual development."
"I found my education [at Royal Roads] useful in everything I do," Greenfield says. "I couldn't do the fun, imaginative, creative 'change-the-world' kind of stuff that I do if I didn't have the grounding in the practical application I received [at Royal Roads]."
---
We always want to hear stories about the people, programs and places that are the Royal Roads experience. Share yours via the RRU Story Exchange and it could be featured on our web site and social media.