Revitalizing Indigenous culture in Nepal
Topics
Featured
Share online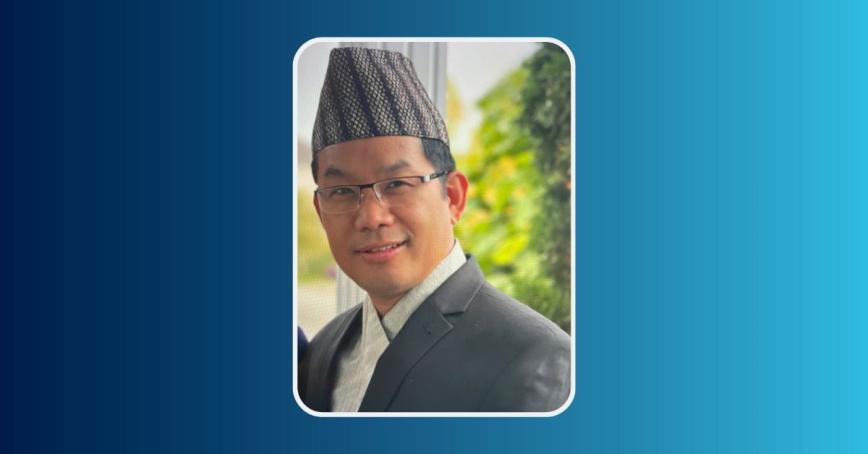 In the capital city of Nepal, Kathmandu, Royal Roads Doctor of Social Sciences student Bali Rai has been busy meeting with Indigenous community Elders and membership. He's conducting research with the objective of revitalizing and lifting Indigenous culture in the region. 
Rai's research is supported by the Social Science and Humanities Research Council, who recently awarded him an $80,000 Doctoral Fellowship. The award enables him to work without distraction, directly with the Bayung Rai communities of Nepal. 
Rai explains the issues facing the Bayung Rai people are not dissimilar to issues that Indigenous peoples face in Canada. The Indigenous community has faced colonization and oppression from the dominant culture.  
Distribution of resources is lopsided against the Indigenous peoples as a result. In Nepal, the government officially recognizes only 59 distinct Indigenous nationalities while the Indigenous peoples of Nepal themselves identify many more. Each of these nations have their own unique dialect and culture.  
Rai points to census data and how it is — or isn't — being collected for this disparity. Recently in Nepal, poorly trained census workers leave out or miscount people from these Indigenous Nations. The Indigenous Nationalities Commission is now investigating this disparity. 
"Things deteriorate because Indigenous peoples are being miscounted mostly in the remote areas with respect to their ethnic clans and sub-clans, languages, cultures, and religions. If there are more Indigenous people, the government becomes concerned about the majority and diversity of Indigenous peoples for equitable distribution of power and resources," Rai says. 
For Rai, revitalization of Bayung Rai culture begins with respect and appreciation for Indigenous knowledge, so communities can practice freely and openly. This respect applies not only in communities, but in the education system as well. 
Currently, respectful education is lacking, says Rai. Students aren't learning about Indigenous Nepalese peoples in schools, colleges and universities. The government's assistance in promoting and safeguarding so-called mainstream culture and religion, is unfairly and unjustly provided, bypassing the Indigenous diverse cultures and religions in Nepal. 
Rai further explains that if the government were to provide education in Indigenous languages and to observe Indigenous ceremonies, it would create a more positive environment to encourage all people to research and understand Bayung Rai culture. Rai holds a decolonial perspective to decenter and deconstruct the long-held monolithic power, thereby empowering Indigenous peoples through cultural, lingual, and ritual revitalization.   
"We need space to gather, perform and celebrate," Rai says. 
At ceremonies and rituals, called "Segro," Bayung people manifest relationships between ancestors, lands, and spirit. Bayung Rai people are very attached to these relationships, and ceremony offers teachings to people who practice it. The Bayung Rai deeply value their interdependence upon the natural world and the cosmos. 
Since September 2022, Rai has been meeting and conversing with Knowledge Keepers, doing what he can to help preserve Bayung Rai culture and unique world views. Rai's important work is advancing ancestral knowledge and cultural revitalization in communities who need their stories shared. 
---
We always want to hear stories about the people, programs and places that are the Royal Roads experience. Share yours via the RRU Story Exchange and it could be featured on our web site and social media.