Putting the business of relationships first
Topics
Featured
Share online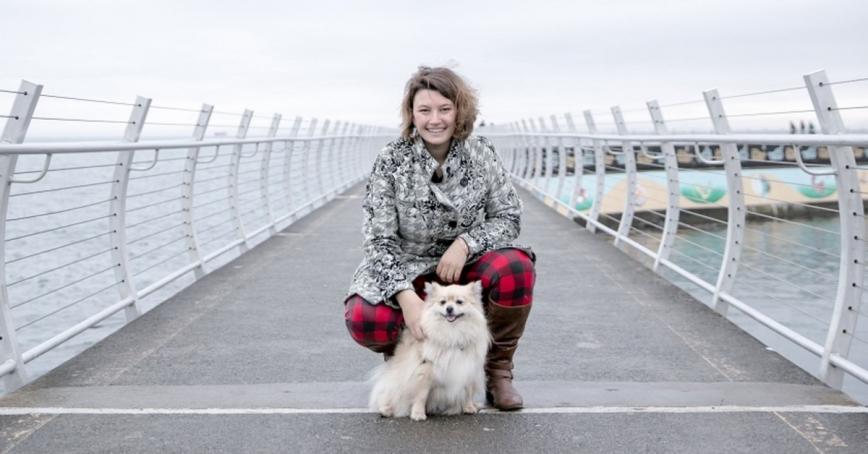 Portia Zaffaroni isn't opposed to taking a risk. Soon after completing her Bachelor of Commerce in Entrepreneurial Management in 2017, she left Victoria for Calgary. Drawn to the city's vibrancy, she didn't have work lined up but soon landed a communications job with a family-owned decorative glass business.
She also found a strong community of women supporting other women in their careers and work life.
When she moved back to Victoria two years later, Zaffaroni noticed a distinct lack of similar, women-focussed networking opportunities. Finding a way to provide that type of support was another chance she had to take. Zaffaroni co-founded the Victoria Women's Professional Group at the start of 2020.
"The philosophy we really wanted was, relationships first and business second," Zaffaroni says. "The thing I feel really strongly about is that you don't do business with people you don't trust. In today's world you can look everyone up online. You can read reviews. But if you truly have trust in people you will refer them because they are good people. That was the foundation. We didn't want a networking group that was competitive."
Even though COVID-19 took a bite out of their initial plans, the VWPG has since grown to include 50 members. They come from a variety of sectors and backgrounds, but they're brought together by common threads of mutual support, opportunities to learn, as well as the usual benefits of forming networks.
"A lot of women find it harder to put ourselves out there," says Zaffaroni, the group's president. "Creating a space where women can learn and share their vulnerability, where they won't be judged…creating a community and atmosphere where that is promoted and embraced was an important part of what we started."
Responding to the pandemic meant a lot of trial and error as the group was getting off the ground. But Zoom meet ups, a couple in-person summer socials, regular communication with members and the public, and small mastermind groups kept the membership engaged and growing.
The group also spearheaded the "Discover Local YYJ" economic initiative in August, to help small, mostly non-tourist businesses in Greater Victoria. A $15-pass provided access to 130 local vendors offering discounts or free services.
"It was wonderful being able to support the truly local small businesses instead of going to Amazon," she says.
Through donations and volunteer efforts, VWPG finished 2020 with a community service Christmas project that far exceeded expectations — assembling and distributing 450 hygiene kits for women in need.
"My original goal was 100 but [the response] was overwhelming," she says. "Some businesses donated 30 kits. We had a couple of people who had Zoom parties to put kits together. Honestly, it kind of blew me away. It was just astonishing."
Zaffaroni recalls her Royal Roads undergraduate experience with superlatives. She found a sense of family in the small, 25-member cohort and valued the personal bonds that the close-knit group nurtured. It was a far cry from the huge, face in the crowd lectures she sat through at other universities.
The average age of undergraduate students at Royal Roads is 30, which brings valuable life experience to the classroom, Zaffaroni says.
"It was just great because everyone came from different backgrounds, with different strengths. Together you end up learning so much more because there's so much life experience in the room. When you're having discussions in classes people are referring to real situations."
Now midway through the Graduate Certificate in Executive Coaching program, Zaffaroni is already helping a number of clients make "transformational changes" through the service she offers with her ReFocus Consulting agency.
And after the year of the pandemic, Zaffaroni has come out of it feeling like she has grown–personally and professionally–and she's excited for 2021. "It challenged a lot of people and made them look inwards, me included," she says. "I think everyone will be stronger for it. You adapt. You grow. You change. The only thing that's consistent is change. I kind of like that. It keeps everything interesting."