Pandemic is real-life training ground for emergency management student
Topics
Featured
Share online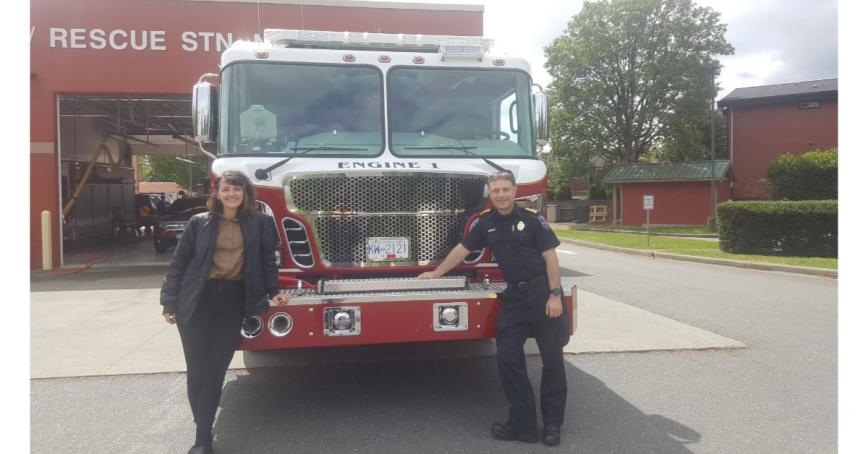 Careers in disaster and emergency management call to mind images of natural disasters like hurricanes and floods, or sustained periods of armed conflict and civil unrest. No one could predict that the biggest storm this year would come from a tiny virus.
Royal Roads Master of Arts in Disaster and Emergency Management (MADEM) student Jaya Bremer focused on emergency management because of her interest in recovery work for areas hit by hurricanes. While a pandemic is a different type of emergency, it offers plenty of challenges. Bremer is currently immersed in the daily work of the pandemic on a work placement with the City of Langford in its activated Emergency Operations Centre.
"COVID-19 is a fast-moving target," says Bremer. "I research and prepare briefs for the mayor and council to help inform decisions, it's very rewarding," she says. "I'm drawing from my Disaster and Emergency Management program learning in just about every way in this position."
Many MADEM students are mid-career professionals with substantial frontline experience in healthcare, first response, or the military. Bremer's background is rooted in creativity. She is a singer and songwriter and emergency planning consultant.
Bremer says she is coming into her own as a professional emergency manager by leading advanced planning and helping to shape the city's response and recovery during the COVID-19 pandemic. While she has only been with the city for a short time, she finds her skills are put to use every day.
Chris Aubrey, Fire Chief for the City of Langford, says he is glad to have someone passionate about emergency management on the team.
"At one point we were developing policies almost hour by hour," says Aubrey. "We needed Jaya to research so that decisions were made on the best information available at the time."
As the tentative "opening up" period continues, and people begin to eat at restaurants or shop in stores, Bremer is researching requirements that will support the health and safety of Langford residents; helping to establish a new normal.
"The Royal Roads program has helped me see the big picture in an emergency, while also bringing it down to the community level and actionable items," says Bremer, who also contributed to research and review of the City's pandemic plan, building in updates based on real life experience during a complex crisis.
"The work done by our student interns in the field, particularly during the COVID-19 crisis, helps to ensure that best practices informed by research are being applied to dealing with the problems we face today, while at the same time mitigating future risk," says Assoc. Prof. Jean Slick, Program Head of the Disaster and Emergency Management graduate programs.
Bremer says she is drawn to pursuing work in recovery long-term, especially in areas affected by hurricanes, and looks forward to applying her new management skills where she can make a positive difference during a disaster or emergency.