New RRU food production hub to keep good things growing
Topics
Share online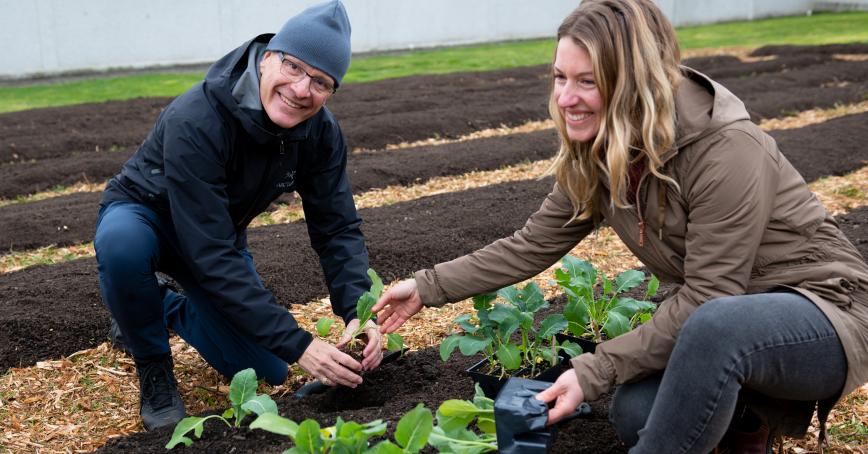 A new kitchen garden, designed as a learning lab and sustainable food production hub for the local community, was unveiled Apr. 13 as part of Royal Roads University's annual spring fundraising campaign.
The unveiling of the first new planting site in the kitchen garden launches the second year of the Vision in Bloom campaign, with a target of $250,000 to support ongoing work to restore, reimagine and sustain the university's century-old gardens and ancient landscapes.
"Our vision for food production is grounded in the sustainable principles of planting carefully, never taking more than we need, and sharing what we harvest," says Royal Roads President and Vice-Chancellor Philip Steenkamp. "Importantly, it's about decolonizing the space. It's also about building on the bounty of nature and honouring what generations of care and attention have provided, so we can share with the community.
"By reimagining what was once the Dunsmuirs' kitchen garden into becoming a community food-production hub, we are creating an edible landscape," says Steenkamp. "We are converting an underused 5.26-acre plot into a garden producing an abundance of organic vegetables, fruit, honey and herbs for use on campus and throughout our community."
The kitchen garden dates back more than a century and, with adjacent glasshouse, provided food for the early residents of the Dunsmuir estate. The new food production garden, estimated to cost $500,000 over two years, will create a garden that celebrates the many diverse cultures and histories of people who have lived and continue to live on these lands.
The campus and gardens are on the traditional Lands of the Xwsepsum and Lekwungen ancestors and families who have lived here for thousands of years. In addition to food production, the kitchen garden will give space to learn from Elders about Indigenous ways and food systems.
"The university appreciates learning from Xwsepsum, Lekwungen, and the surrounding nations and their members, who continue to share their stories about harvesting from the lands and waters," says Asma-na-hi Antoine, RRU's director of Indigenous Engagement. "This relationship is important to continue with the kitchen garden project to honour their stories and revitalize their traditions."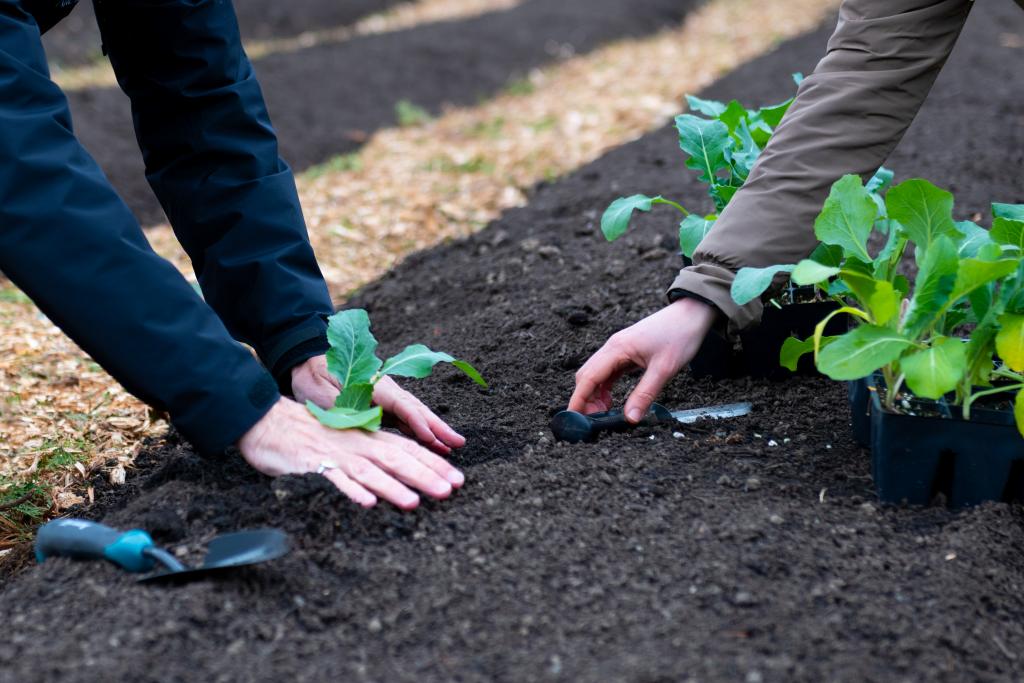 "We want to work really intimately with the landscape, to learn from it, to uphold the existing Indigenous food systems," says Hilary Leighton, co-chair of the Kitchen Garden Committee, associate professor and program head in RRU's School of Environment and Sustainability.
"It's just ripe for food growing," says Solara Goldwynn, food systems manager of the RRU kitchen garden. Goldwynn is excited that in addition to vegetables and perennial plants, the area will eventually feature more fruit trees, Indigenous foods and a medicine garden.
The first garden harvest is expected mid-September. The first new planting site, named the Giving Garden, is being created using a no-dig sheet mulch to support a first-year planting of squash, collard greens, edible flowers, garlic, and more. Community groups interested in getting involved in the food sharing program can contact RRU for details.
The university is accepting donations at www.RRUinBloom.ca to help honour and preserve the campus gardens' unique history, enhance visitor experience and create new opportunities for meaningful engagement with the local community.
Royal Roads University's scenic campus, an ancient and enduring gathering place for the Xwsepsum and Lekwungen First Nations, includes Hatley Park National Historic Site. The Edwardian estate, built in 1908, includes Hatley Castle and acres of formal gardens, including the Italian, Japanese, Rose and Woodland gardens.