Morrison and international team highlight climate justice at COP27
Topics
Featured
Share online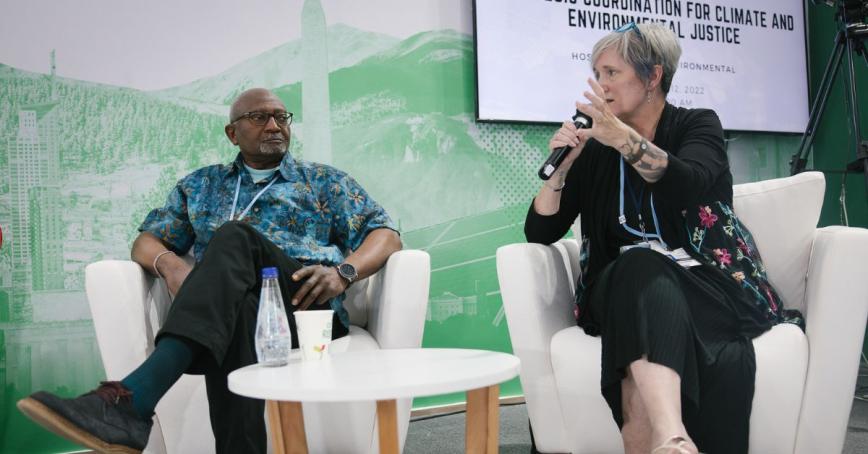 Climate change is a big problem that requires big solutions. Climate justice is a big, related issue that requires small solutions — thousands of them.
At the recent COP27 United Nations climate change conference in the Egyptian resort town of Sharm El-Sheikh, hundreds of government officials, workers from non-governmental organizations, academics and observers got an up-close look at a few of those solutions thanks, in part, to the efforts of a Royal Roads University associate faculty member.
Deb L. Morrison, who teaches classes in the Faculty of Environment and Sustainability runs her own consultancy, CLEAR Environmental, and her noteworthy background includes collaborating with the UN, consulting with governments and corporations, and advising the U.S. government on action for climate empowerment.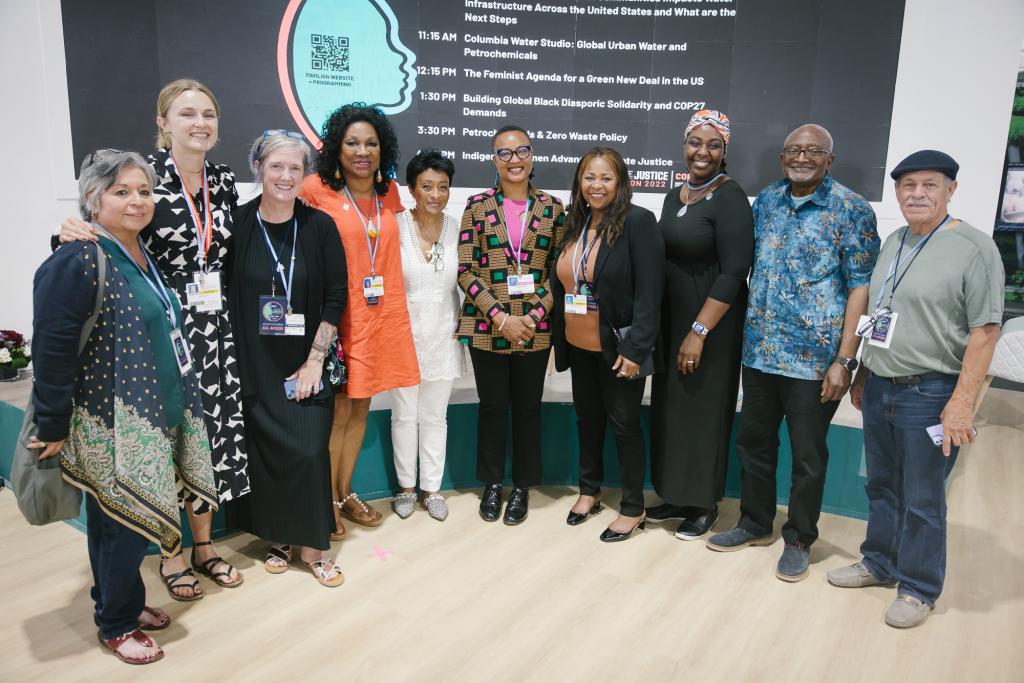 Organizing the pavilion, Morrison worked with a variety of international colleagues, including several American academics who advise the White House. The result was a space where those working for climate justice could share their stories, learn from peers, bend the ear of politicians and network.
Climate justice is defined as an equitable distribution of both the burdens of and responsibilities for dealing with climate change. But what does it look like in practice? Morrison says, "When we have power sharing, when we really think carefully to make sure everyone impacted is at the table, everyone can contribute to decisions at the table, then, to me, you're getting toward climate justice."
The COP27 Climate Justice Pavilion became a hub of activity around those principles of equity and collaboration, highlighting the work of people and groups around the world. Among notable names, she says, former U.S. vice-president Al Gore spoke at the pavilion and Ali Zaidi, the National Climate Advisor to President Joe Biden and vice-chair of U.S.'s National Climate Task Force, held meetings.
More importantly, Morrison notes that the pavilion hosted and provided exposure for a variety of grassroots organizations addressing climate justice, for example, through a feminist lens or discussing community-driven solutions to financial issues.
"It became this gathering place for Indigenous groups, communities of colour, a lot of the African nations."
"I'm not trying to educate the world en masse about climate change or solutions, I'm trying to share knowledge community to community, share learning, share values."
"They're most responsible and accountable to their own communities," Morrison says of the organizations that interacted in the Climate Justice Pavilion, "and then they want to learn from each other how to do better for their communities.
"To me, that's what action for climate empowerment is. I'm not trying to educate the world en masse about climate change or solutions, I'm trying to share knowledge community to community, share learning, share values.
"What do you need? What's the capacity you're missing and how do we get you that capacity?"
Morrison says the reaction to the pavilion was enthusiastic and plans are in the works to host another next year to extend and expand the learning and collaboration between grassroots groups and large, global organizations such as the Office for Climate Education.
Asked what she learned, she says: "I learned that organizations that have a lot of power and clout can learn to be humble and learn to collaborate well if they're brought along in a relationship with one another."
Learn how you can connect your career to climate action.
---
We always want to hear stories about the people, programs and places that are the Royal Roads experience. Share yours via the RRU Story Exchange and it could be featured on our web site and social media.