The missing weft in self-determination
Topics
Featured
Share online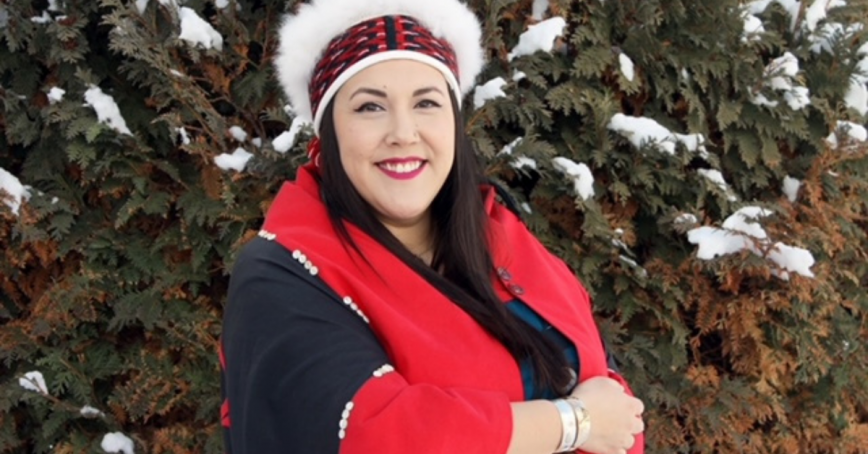 "So much good comes from an informed, empowered community," Juli Holloway says, referring to First Nations across what is known as Canada. She is a Royal Roads University graduate applying her degree in an exciting new opportunity.
After completing Royal Roads' Master of Arts in Professional Communication program, she joined the team at the Tulo Centre of Indigenous Economics. The centre, which supports economic development on First Nations land, delivers university-accredited certificate programs through Thompson Rivers University. Holloway's role is to advise on communications, ensure Indigenous worldviews are integrated in curriculum, and provide an Indigenous lens for course development. Holloway is Haida from Skidegate on her mother's side, and Kwakwaka'wakw from Kingcome Inlet on her father's side.
"Communications is the missing weft in the basket of Indigenous self-determination," she says, describing the need for communications capacity building. It's a barrier she's hoping to help First Nations communities overcome in her new role. 
"The research I did during my time at Royal Roads is really what got me to where I am today," Holloway explains.
Holloway's research emphasized the value of three elements that contributed to successful outcomes in community engagement processes. After interviewing three communities who had gone through a community decision-making process that resulted in community support to advance an initiative, she found they had three things in common.
The communities that were able to proceed with their projects had a high level of community trust in their leadership and the decision-making process. In those cases, the community had seen the value in, and invested in communications. Communications expertise was therefore present in the form of skillfully designed communications that included Indigenous worldviews in the communications capacity and the proposed project.
Her thesis helped establish her as an expert in Indigenous-led communications to support community engagement. One of the projects she is currently working on at the Tulo Centre is a game-based learning project about how to gain community support for economic initiatives
The work Holloway is doing is an extension of the research she completed and illustrates, in practical ways, something she's been deeply concerned about.
"First Nations are the only governments in Canada that don't get core funding for communications, and many can't build that capacity without significant own-source revenues. That often leads to communications being done by people that haven't been able to take proper training to be able to communicate to the community effectively."
With the myriad of issues facing First Nations communities, from infrastructure, employment, education, elections, and most recently, the uncovering of unmarked graves, clear, concise and coherent communications are crucial. She points to colonization and European contact as a force that negatively impacted First Nations community communications.
"I think the Indian Act was designed to keep us fighting amongst ourselves, with band election cycles every two years, it's always shaking things up, where we can't maintain positive momentum," she explains. 
That's how it is now, but Holloway feels communications can help mitigate that barrier.
"You get everybody together over a long period of time, and you start talking about where you are now and where you want to go. You're giving people hope, you're building trust in the process, all of these good communications things, and First Nations that have gone through the community, planning processes, you really see community members talking about how they're empowered, how they don't feel apathetic and disenfranchised anymore, how they know that their voice matters," Holloway says.
Holloway says there's still plenty of work to be done, but she has hope for the future, particularly with a decolonial approach to communications. She quoted decolonization and diversity workshop leader and Nahanee Creative founder Ta7talíya Michelle Nahanee in saying, "When it takes more time, helps more people and costs more money, that's when you know you're doing work in a good way. If we can just keep focusing on that, we're going to keep moving forward. When we forget about that, that's when we lose sight of what we're trying to do together."
As a Tomorrow Maker, Holloway is focused on the kind of future that's supported by effective communications. She talked about the tomorrow she dreams of, marveling "when we're happy, healthy, thriving, when our communities are vibrant, when we have clean drinking water. And that's not to say that communication is going to fix all those problems, but that is a piece that I feel like is missing. Communications can support building strong relationships and having conversations that need to be had to truly make an impact. That's the kind of reconciliation that really appeals to me: when we're all moving forward in a positive direction.
As part of the Tomorrow Makers campaign for Indigenous student success and research grants, we're sharing stories of Indigenous alumni who are making a difference in the world. You can help future Indigenous leaders tackle climate change, sustainability and community development for this generation and for those to come. You can be a Tomorrow Maker by supporting one today.