Topics
Featured
Share online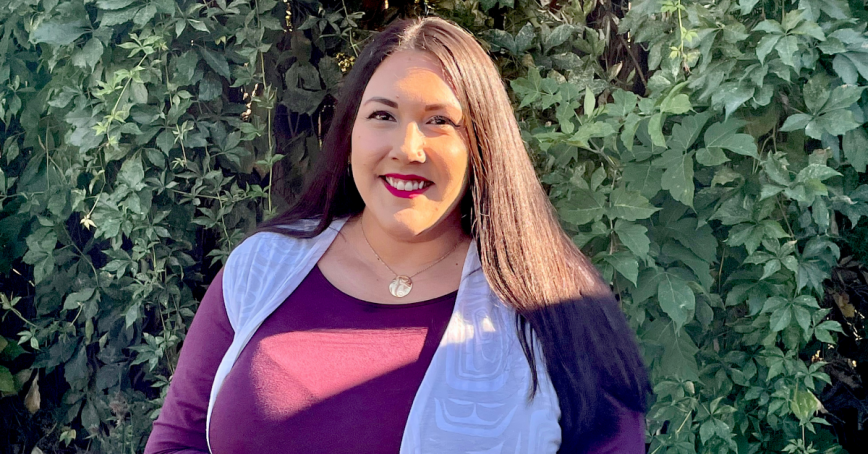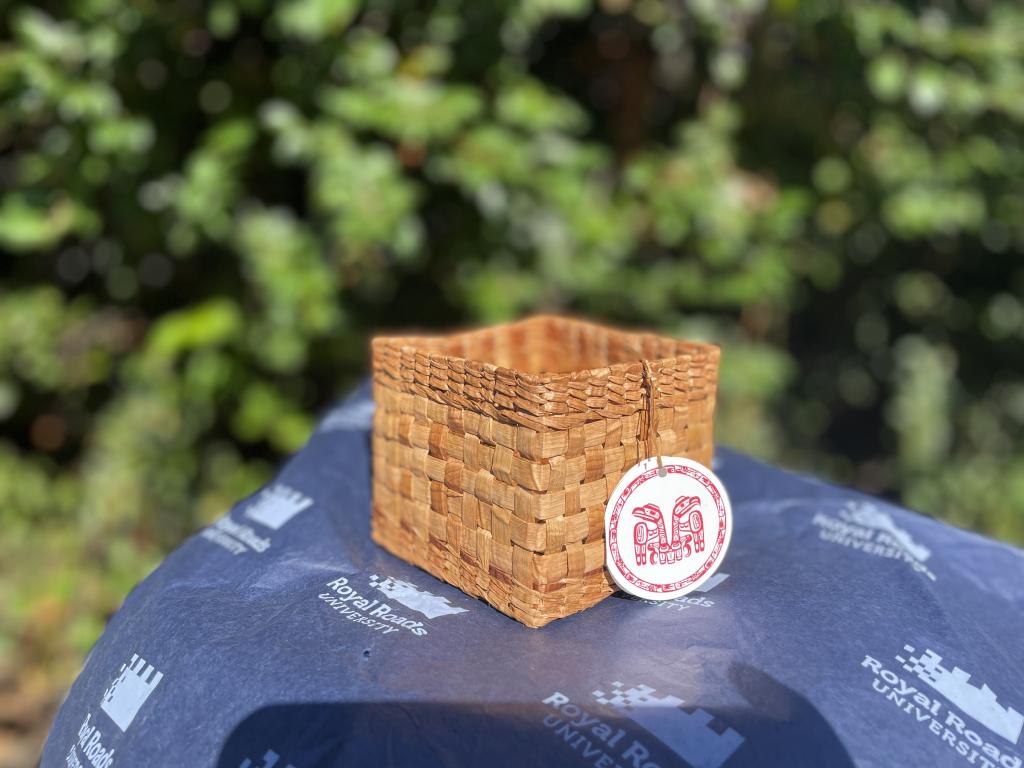 Juli Holloway, Royal Roads graduate of the Master of Arts in Professional Communication program, is Haida from Skidegate on her mother's side, and Kwakwaka'wakw from Kingcome Inlet on her father's side.
This is her story:
"Communications is the missing weft in the basket of Indigenous self-determination. The way that a cedar basket is woven, you start out with all of these warps, that are connected at the core, they're bound together, and then it's actually the work of the weft, to be woven around to build a strong basket.
"When I use that analogy with communications, I really see the warps as the people in the community, and you're bound together by community, family, language, land and culture, but because of colonization, we're kind of all going our separate ways. It's really the role of communications to be able to weave everything together.
"All of the pieces are there, except for this missing weft of communications to be able to pull together people, stories, and connect everything to be able to go forward. To solve that whole issue, First Nations need to be able to understand the value in communications, fund it, and then have capacity building so that Indigenous youth coming up can work in these jobs for the betterment of their communities.
"If you're a young kid growing up on the reserve, and you're looking at the types of careers that you can get into it, you may only see the jobs that are in the band office, or that are around the community. But if you have gifts like writing and storytelling, there's such a rewarding career out there in communications – but you've got to be able to see it to do it. It's only possible if you can see that it's possible.
"I'm the first master's graduate in my family so everyone was really proud of me and I'm so grateful for all of their support. I didn't set out to be a role model, but I know my journey has inspired others and I think that's great. Because of the intergenerational effects of colonization, I didn't really get to see people doing these things and if seeing me accomplish what I set out to achieve inspires others, that's something I can be really proud of.
"When I started the Master of Arts in Professional Communication program, it was actually during a pretty challenging time in my life. My mother-in-law had passed and we were pregnant with our third child, we were dealing with a lot, but with the support of the community, the teachers, and my cohort members in the program, I was able to find a way to persevere to get through all of the coursework and get the thesis done.
"It took me a while, I had to step away for a number of years and come back to finish my thesis. It was just so great to finally have accomplished that, and for my kids to see what it was all for at the end.
"I remember a time in my life where I was nervous to do presentations, or just put myself out there. It's almost hard for me to remember being in that place because I've come so far. But that's the really great thing about education, you just grow through what you go through. You don't realize how much you change until you look back and you see that you climbed this mountain."