MGM students form a team within their cohort to travel from India
Topics
Featured
Share online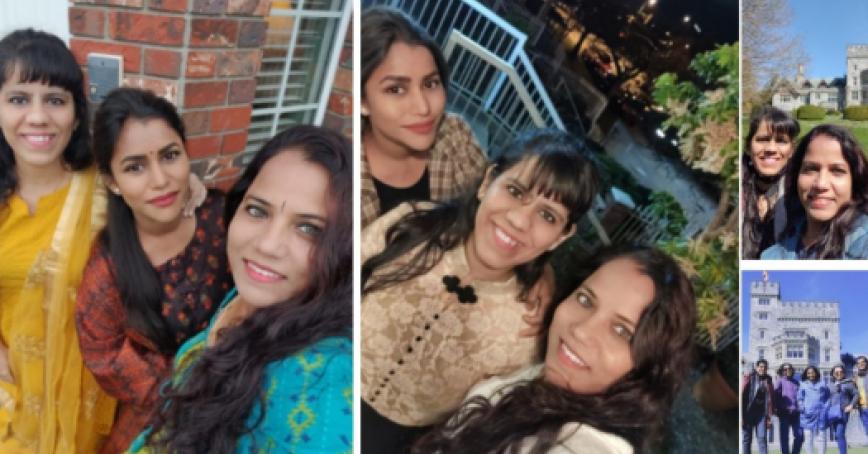 Royal Roads University Master of Global Management student Barkha Chandarana aced a real-life leadership assignment, teaming up with two program classmates to travel to Canada from India in March 2021 to continue their MGM graduate degrees.
After weeks of planning, Mumbai resident Chandarana, Kanika Mohan from Delhi and Sathya Suganya Babu of Chennai met in person for the first time in March at Indira Gandhi International Airport, finally bound for Vancouver.
International MGM students typically spend 12 to 18 months studying at RRU. Although COVID meant switching to remote learning, Royal Roads adapted class times to early morning or late evenings to allow students in Nigeria, India, China and Canada to be in virtual classrooms together.
Chandarana, Mohan and Suganya Babu decided to come to Canada for the third and fourth quarters of the MGM program. They anticipate that they willl finish class work in September, with six-month internship placements expected to start in October.
With restrictions due to climbing COVID-19 numbers in India and Canada, it was difficult for the students to co-ordinate Immigration, Refugees and Citizenship Canada study permits, visas, COVID tests and itineraries. RRU's Student Services Office helped with the process.
Before leaving India, they had to arrange to form their own new pandemic bubble of the three of them, manage a three-day quarantine stay together at a Vancouver hotel and find self-contained accommodation to complete their 14-day quarantine.
Chandarana put some of the theoretical learning from her MGM classes into action.
"At Royal Roads, you learn leadership, how to manage a team, how to be a good manager and how you are going to support a business or a firm," Chandarana says.
She worked her contacts. They had to travel and quarantine as a group, but flight options were limited. Vancouver quarantine hotels were booked up.
Chandarana reached out to her cousin in Mumbai who owns a travel agency. He got them on the same flight. Her work colleague in Mumbai helped them find an Ontario travel agent to arrange a Vancouver quarantine hotel, while Chandarana tracked down a Vancouver Airbnb for the rest of their quarantine.
They downloaded the Canadian government ArriveCAN app to provide their travel and contact information and quarantine plan.
Chandarana says her family teased her about the long hours she spent on the phone and online making the travel arrangements.
"I said, 'I'm really, really excited to move to Canada and all this hard work is just for Canada,'" Chandarana told them, joking that if she'd worked this hard as a teenage student, "I would have become a doctor by now."
Because they had to go directly from the quarantine hotel to their rental in Vancouver, the students relied on the homeowner at their Airbnb to bring them groceries and supplies.
"He was very kind and when we left the house, we were feeling very sad," said Chandarana.
The three became close friends during quarantine. They faced some challenges, including a hail storm that knocked out power and internet access the day a major leadership assignment was due.
When the cab driver to the BC Ferries Tsawwassen terminal for her trip to Victoria took off with her bag, Chandarana kept calm. She had memorized the driver's taxi license number and remembered a sign she'd seen on a walk in Stanley Park - after their quarantine ended - about calling 911 for help. She got her bag back.
Chandarana and Suganya Babu are staying near each other in Victoria. Mohan is continuing her coursework in Ontario where she's with family.
Chandarana says RRU keeps students connected and motivated with events run by the Student Engagement Team, including online games and cultural events.
"Every Friday we have these fun sessions," she says. "I am a person who is very active, and I registered for all the webinars that come my way."
She was disappointed that she could not attend in-person classes due to the COVID-19 pandemic, but was excited to finally see the RRU campus.
To celebrate their arrival at Royal Roads, she and Suganya Babu made regional dishes to share with a small group of students they'd met through online classes. Classmate Kanogwan "Nok" Wongpensri brought Thai food. The picnic was a chance to take in the view of the castle and Esquimalt Lagoon and appreciate how far they'd come to study in Canada.
"This MGM program has given us an opportunity to stand alone in the crowd," Chandarana says.
It never occurred to her to not follow through on the plan to come to Canada. "I believe that if someone tells you no, okay, you should still try," she says.
On April 22, the Canadian government suspended all flights from India and Pakistan to Canada for 30 days. Chandarana, Babu and Mohan traveled prior to the flight suspensions.