Leadership from near and far: educating girls of rural China
Topics
Featured
Share online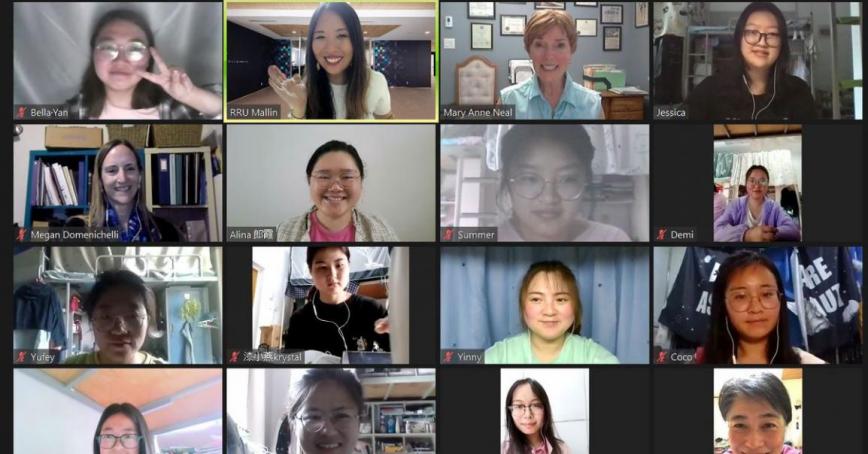 "Since the start of the course, I realized the power of teamwork."
That's what program participant Vinny had to say about the non-credit leadership sessions offered by The Global Language and Learning Centre at Royal Roads University to a group of young women in China.
Sponsored by Vancouver-based charity Educating Girls of Rural China, this program provided learning opportunities even during the pandemic. The charity works to empower women in rural regions of Western China to escape the cycle of poverty through education.
In the future, the goal is to establish an on-campus summer program for EGRC and to offer graduate scholarships. The idea is to impact the lives of even more girls in rural China, given all the positive feedback received to date from staff and program participants alike.
"Having our ideas and own thinking is important in everything we do," says Coco, another participant. "I learned the strength of love and respect," Bella shared. Finally, Demi says, "In these 3 classes, we discussed a lot of topics, such as communications and leadership. What benefited me the most was the process of group cooperation, we discussed a topic, investigated the background of the problem and thought about what we could do."
Mallin Jiang, program lead at Royal Roads University was inspired too, saying, "It has been an amazing experience for me, for the instructor and for everybody who has been involved from the staff of EGRC. Seeing that transformation, the impact on these girls, that was the most rewarding experience."
The participants were university students sponsored by EGRC, financially supported to leave their villages to pursue higher education. When asked to describe them, Jiang says, "They're brilliant, they study really hard, and they all have their motivation to either help their community or help their family."
One of the exercises in the program involved the participants brainstorming what they would do if they had a million dollars. The responses revealed community-minded, altruistic and strategic thought processes. They talked about giving back to EGRC, paying off family debt and reinvesting in economic development in their villages.
That kind of thinking is consistent with the program objectives. "One of our goals for the leadership program is saying that you can do something very small to make positive changes, starting from you and your family.  As you grow, you can make a bigger impact in the world, but right now, you still have power and you can make change," Jiang explains.
The perseverance Jiang observed in the program participants was mirrored in the institutional response to the pandemic. "We didn't stop when the international students couldn't come here. The lesson is that because of the challenges, we innovated and we were able to see this as an opportunity and to provide education to draw a broader audience and make it more accessible," Jiang recalls.
The innovation didn't stop there, Jiang says. "Because of this whole challenge, we have so many programs that we're delivering in a similar experience, we'll be able to make that life-changing impact."
What started as three workshops delivered online due to the pandemic has turned into a new way of providing leadership education around the world.