Insight Approach to conflict hits the stage
Topics
Featured
Share online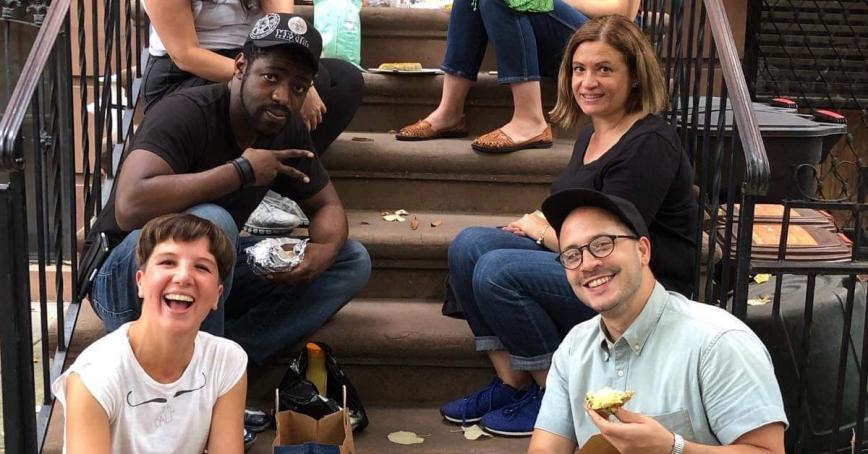 Conflict is at the heart of any great story. How do the characters move through the conflict to grow or change? Learning to analyze conflict surrounding an issue and presenting an original work about its impact is how the TÉA Creative (Theatre, Engagement & Action) in New York brings awareness and understanding to social justice issues.
Royal Roads Assoc. Prof. Marnie Jull is training the TE'A theatre artists in the Insight Approach to conflict analysis. The group will use the training to shape and perform a unique theatre piece examining race and racialization in America. It's where art and expression meets research and application.
"Students in the Conflict Analysis and Management Program at Royal Roads learn the skills of non-judgmental listening and questioning what parties think they know about each other when they're engaged in conflict behaviour," Jull says. "That means understanding conflict behaviour as a decision to defend against an experience of threat. When the threat is no longer so significant, or there are options other than defending, then conflict can change."
Jull will continue to work with the group in the New Year to help them refine their work with the Insight Approach, but in the meantime, the group will continue its research, involving conversations with people about incidents in which they felt racialized, and working those insights into an original play.
Jull says the exciting thing is seeing how the Insight Approach has applications far outside of a classroom or negotiating table.
"It's very exciting to see Canadian research being applied in an American context and taking research from Royal Roads and applying it in community-based organizations. It is very satisfying to see how relevant, creative and practical it is. And that it isn't confined to people who want to pursue graduate studies, but it could be applied in a variety of ways that are useful for where people are."
The play will be performed in New York City in 2020.