How are teachers coping in the pandemic?
Topics
Featured
Share online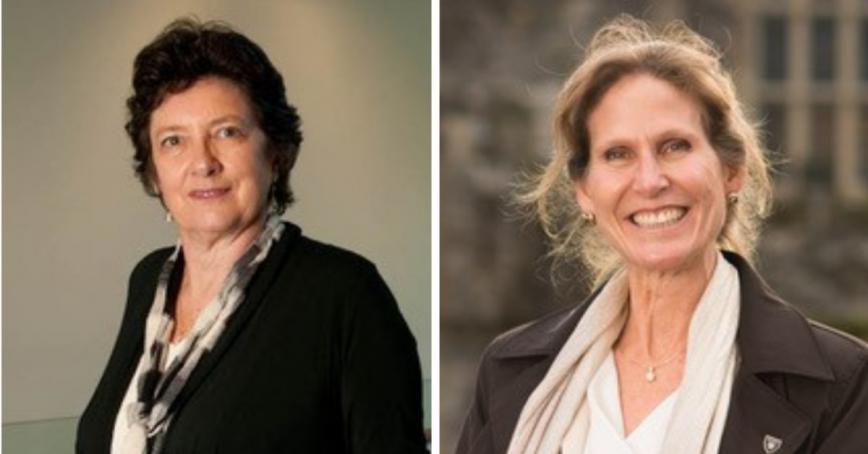 In the post-pandemic future, thousands of studies will likely be conducted to determine what we learned from battling COVID-19.
But two Royal Roads University professors aren't waiting that long.
Prof. Wendy Rowe of the School of Leadership Studies and Prof. Jennifer Walinga of the School of Communication and Culture have received a Partnership Engage grant from the Social Sciences and Humanities Research Council, a Canadian federal research-funding agency, to conduct a study examining stress adaptation for teachers from kindergarten to Grade 12.
 "When challenging situations emerge, when there are disorienting events, everybody has a stress response, a crisis response," says Rowe, who has taught at Royal Roads for 17 years.
"Everybody sees it as stressful and traumatic. It's what they do next that seems to make a difference.
"Most of us, most of the time, are coping and we've got really excellent coping skills. We figure out ways to isolate the problem or to compartmentalize," she says. "What we want to see is whether there are challenging situations, disturbing events, stressful events where you come through the other end stronger. And that is the concept of 'thriving.' "
Navigating the whitewater
"I always like to think of it as whitewater," says Walinga, an Olympic and Commonwealth games gold medallist in rowing who has taught at Royal Roads since 2008. "You're in the middle of it and you've got to get out of this, through the whitewater, in your little kayak somehow. And so you can cry and flip upside down and drown or you can figure out how to make your way through this intact — and, actually, having learned something and come out stronger.
"So what are the tools people need to navigate the whitewater?"
Determining what those tools are for K-to-12 teachers navigating classrooms and curriculum in the hugely disruptive time of COVID is the goal of research Rowe and Walinga are conducting in Sooke School District, which serves the Vancouver Island (B.C.) communities of Sooke, Port Renfrew, Metchosin, Highlands, Langford and Colwood. With the support of School District 62 administration, they're surveying teachers in all 26 schools.
"We value the work that our teachers do every day in service to our students and families," says Scott Stinson, superintendent of schools for Sooke School District. "If there are lessons we can learn through the response to the pandemic that will assist us in moving forward, that information would be most welcome."
Once Rowe and Walinga have compiled the responses, they will conduct workshops with some teachers to hear how they have reacted to pandemic-related changes in their practice, gaining insight into how they dealt with the stress with the aim of letting educators talk through the stress they've encountered to get to the core of what they need to do their jobs — not only in times of crisis, but every day.
"They're probably the most stressed-out people in the world right now," Walinga, a former teacher in the K-to-12 system, says of teachers. "Let's reach out and see if we can help them."
A more supportive work environment
According to Rowe and Walinga, "coping with stress, and perhaps even thriving, means reaching out to others, getting organizational supports, and working with colleagues to find solutions and strategies that transform the stress situation."
That may mean different supports from school administrators, they  say — anything from some respite help so the teacher can take a break, to sufficient training and technical backup, to sharing of tasks to avoid duplication and overwork — as well as an institutional understanding of what works for students and those responsible for their education.
"This is about creating a different work environment that's more supportive to all the challenges that teachers have, not just the COVID situation," Rowe says. "This is not about Plexiglas or bigger rooms or more planning sessions or more aids — this is not about that. This is about building a supportive system and it's about all parties listening to each other."
Says Walinga: "There is value in whole and healthy teachers."