Getting help to renters who need it
Topics
Featured
Share online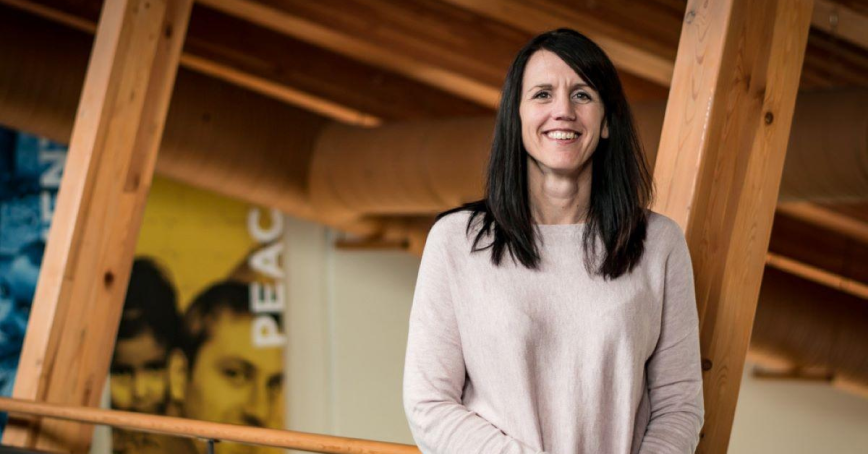 Melissa Giles is a leader. A Royal Roads University Master of Arts in Leadership graduate, she's also managing director of the BC Rent Bank.
And she uses her leadership skills to advocate for and help others both at home and abroad.
She was a teacher; interned with the Canadian International Development Agency (now Global Affairs Canada) working on a safe water project in Uganda; worked as a director with the NGO Samaritan's Purse, which helps people around the world who are impacted by war, poverty, natural disasters, disease and famine; oversaw community partnerships and education for Food for the Hungry Canada; and founded Settlement360 to aid refugees.
Now, with BC Rent Bank (BCRB), Giles, who graduated in 2021 from the MAL program, was instrumental in establishing a province-wide microloan program that helps prevent renters from becoming homeless due to unforeseen financial troubles.
Founded in 2019 as a project of the Vancity Community Foundation with funding from the province, BCRB supports communities across BC that want to start their own rent banks to help renters facing eviction. They do this by providing small, no-interest loans for those who need them to pay their rent or essential utilities, Giles says, explaining that for many renters, an unexpected dental bill, a roommate moving out or a lag in arrival of government benefits can mean the difference between warmth and four walls, and the street.
"People have a blip and that blip can destabilize them. That thin line between housed and not housed gets thinner as the demands on people's finances increase."
BCRB's focus, she says, "is to keep people housed when and wherever possible."
And it has been effective. Giles notes that last year, BCRB surveyed clients six months after they'd received aid and the results were both conclusive and encouraging: Rent banks were successful in supporting renters to maintain their housing when faced with a short-term crisis that threatened housing stability, with 94 per cent of respondents indicating they had maintained or improved their housing situation.
The work, then, is rewarding, and she says she especially enjoys starting and developing things — setting the vision, hiring staff, building partnerships, advancing technology.
Whatever the tasks, she comes by her giving nature naturally.
Giles says she grew up in Rainy River, a small town in northwestern Ontario that had just six streets and where it was not uncommon to knock on a neighbour's door to borrow a cup of sugar.
"Family forms us a lot," she says. "My family, my parents were really community focused... They have a faith and that faith motivated them to be outward focused. So, I think, growing up in a family where caring for other people was prioritized was obviously really influential.
"A lot of my work, I get that it's outward focused, and people tend to want to put that on a pedestal, but the reality is that work has been life-giving, and it provides purpose and value and motivation. So, it gives back to me as much as I have given out into community."
Giles also appreciates her time in the MAL program, saying it gave her an education grounded in real world leadership problems and solutions, and among a cohort of fellow students she still calls friends today — and whom she still calls to ask advice and bounce ideas.
She notes that self-reflection was a key part of the program and says, "It was an opportunity… to look at what collaborative leadership could look like in the network that I was creating, so there was immediately direct application to my work.
"I think it's made me a stronger leader. The degree helped me understand that leadership really starts with that inward focus and then it begins to look out and see the impact on others.
"I think it's made me a stronger leader."
And so many people have better lives because of that.
We always want to hear stories about the people, programs and places that are the Royal Roads experience. Share yours via the RRU Story Exchange and it could be featured on our website and social media.