Former pastor found his calling in business
Topics
Featured
Share online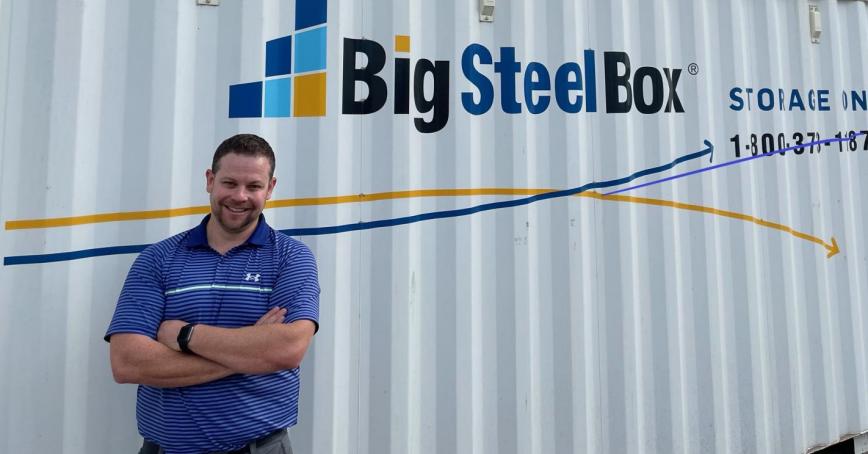 Boxes are his business and business is his passion.
But Brian Hawkins, who is director of operations with BigSteelBox Corp., wasn't always about the bottom line.
In fact, his previous profession was with an enterprise that paid no attention to profits: a church.
A resident of Kelowna, BC who has spent most of his life in the lakefront city, Hawkins attended Taylor College and Seminary in Edmonton right out of high school, earning a Bachelor of Arts in Religion and Theology. For several years, he put that education and his calling to good use, working as a pastor at a church for several years.
"But I gravitated more to the business side of church, if you will, than to the pastoring side of church," he says.
When he and his wife, a teacher who'd had trouble finding a full-time job in the Okanagan, moved to Edmonton in 2013 so she could pursue work, he made a change. He saw a posting for the position of manager of a BigSteelBox retail store, followed his gut and applied, winning the job. BigSteelBox provides shipping containers to retail and business clients for moving, storage and accessory storage like the ones you see outside a store or on a construction site. Hawkins began progressing with the company, but something nagged at him.
"I was moving through the organization and found myself in a leadership position but without any formal business training," he says.
That prompted his search for a university business degree program.
"I just wanted to have some backing, some foundational business education."
And when his employer's human resources manager suggested Royal Roads University — and after he'd done his own research and, again, followed his gut — he registered, starting school in 2017 and earning a Bachelor of Commerce in Entrepreneurial Management (BComm) in 2019, the same year he received the RRU Chancellor's Award for BComm for the highest academic performance in his program.
While he wasn't working in a start-up, Hawkins says learning the ways of entrepreneurial thinking and communication at RRU has allowed him to add value to business conversations he wasn't able to contribute before. Other valuable benefits he identifies from the program include learning to read and act on financial statements, and absorbing lessons on business strategy and execution, all of which he says he uses daily.
As much as he lauds the program, the instructors and the blended format (online plus three intensive residencies on campus), Hawkins saves his highest praise for his classmates and the relationships they formed.
"I kind of feel like I won the cohort lottery on some level," he says. "It was such a collection of high-calibre people from all kinds of industries, from the navy to oil and gas to provincial government emergency services to federal government procurement. People were all over the map in terms of what they did for a living and they were all just exceptionally intelligent and great people.
"I learned a ton from those people and I'm still in contact with lots of them."
Asked about bringing his schooling back to the workplace, Hawkins says: "I feel like I'm now better equipped to help the people around me succeed. My education is really just a platform to be better at my core job, which is to help my team perform better."
To that end, perhaps with a little nudge from Hawkins, two members of his team are following in his footsteps: They start in the BComm program in August 2021.