Fitting in comes at a cost for South Asian-Canadians
Topics
Featured
Share online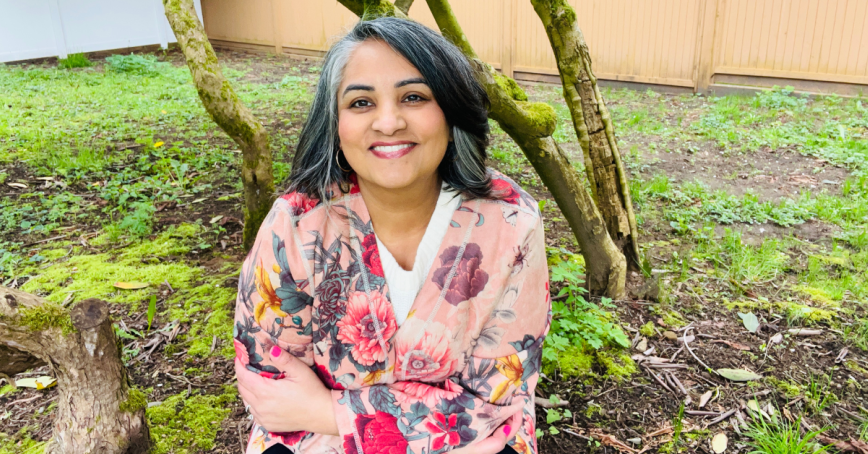 Mina Sahota knows intimately the push, pull and pressures faced by second-generation South Asian Canadians — they've been part of her life since she was a child.
Her mother prepared Punjabi food for dinner but sent her to school with sandwiches for lunch. When her father went to work, she notes, her mother packed a lunchbox with sandwiches and a thermos filled with coffee, not the cha that he preferred.
Her parents emphasized the importance of their culture and values, but taught her to keep her head down, work hard and ignore the racism she encountered to succeed in the dominant Caucasian culture.
A second-generation Punjabi-Canadian who grew up in Cloverdale, BC, she says, "I remember I wished I could just be Canadian — not Indo-Canadian, not East Indian, South Asian or BIPOC." 
She says these labels simply state "not white," which implies that being anything but white makes someone un-Canadian. 
And now, Sahota, a Royal Roads University Doctor of Business Administration student who also holds a Master of Arts in Leadership Studies from RRU, is the recipient of a Doctoral Scholarship for Research on Equity, Diversity and Inclusion to explore "the experiences of inclusion and belonging for second-generation, South Asian-Canadian women working in BC workplaces."
It was only when I had kids that I really started to think about, gosh, how much of my identity did I refuse? How much of my culture did I reject? How much of my Punjabi upbringing did I park over here?"
Sahota says there is a heavy cost to constantly striving for inclusion and, based on her academic literature review, her own experiences and the stories of women around her, believes the burden of cultural assimilation takes a toll.
"The question is, how many times have I negotiated my identity and code-switched back and forth, and how exhausting has that been?" she says of the practice of adjusting how you speak or behave to better fit in with different people or settings.
"For most of my life, I didn't think that I'd faced barriers because I had access, I had privilege in many areas. I always thought if I just was white enough, I wouldn't have to deal with issues.
"And it was only when I had kids that I really started to think about, gosh, how much of my identity did I refuse? How much of my culture did I reject? How much of my Punjabi upbringing did I park over here?
"I was born in Canada, I'm Canadian, it's the only identity I've ever had," she says, "but I've always been othered in the place I was born."
Her goal in her research is to tell stories like hers and, perhaps, pave a smoother path for her sons and nieces and others like her potentially faced with such conflict. 
"My work is aimed at exploring, identifying and understanding the cost of those conflicts," she says. "What have second-generation South Asian Canadian women given up to gain success at work?"
Sahota's research is just the latest step in a career as a human resources professional, leader and teacher. 
A member of the faculty in Kwantlen Polytechnic University's Melville School of Business, she provides students in HR undergraduate programs with real-world business skills, incorporating intercultural teaching methods and diverse literature. Previously, she held Human Resources roles in the public sector, including with Fraser Health Authority. She's also the principal at Mina Sahota Consulting & Research Inc., which works with a variety of organizations to support their inclusion and belonging efforts.
Sahota credits her time at Royal Roads for supporting her education and interests, saying, "I love the care and the focus on inclusion and belonging."
She carries that focus with her on her educational and professional journeys, just as she carries the scars of her experiences with racism and the knowledge that the issues she is studying didn't start with her or her generation, but it could perhaps end there.
---
Canada marks Asian Heritage Month in May. This story is part of a series of RRU articles celebrating the month, which focuses on stories that celebrate the contributions of people of Asian descent in our university and beyond.
Visit our Asian Heritage Month webpage for more stories about Asian people in our community, to learn about upcoming events and discussions, and to find cultural and educational resources put together by the Royal Roads Library.
We always want to hear stories about the people, programs and places that are the Royal Roads experience. Share yours via the RRU Story Exchange and it could be featured on our website and social media.