Don't just stand there — do something!
Topics
Featured
Share online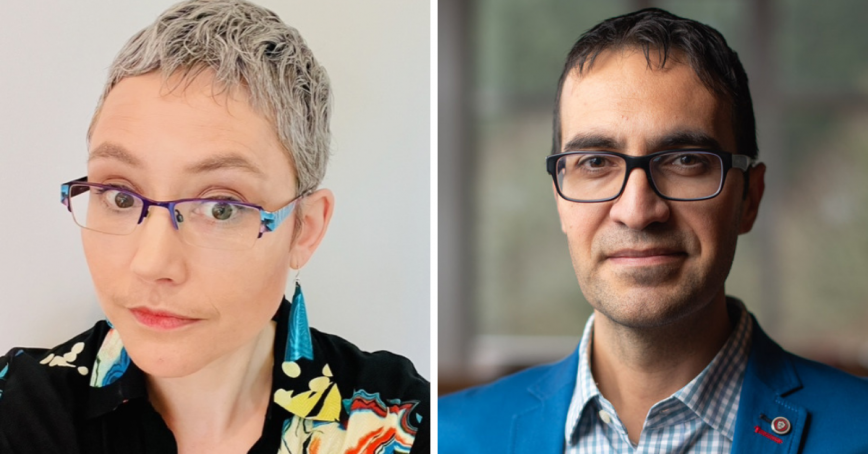 If sarcasm is the worst thing you encounter online, count yourself lucky.
If you're active in the rough-and-tumble of social networks — and especially if you're a woman, non-binary or transgender — you're likely to experience, not only cutting remarks, but abuse and verbal attacks.
You'll experience violence. Or, at the very least, you'll witness it.
It's those witnesses who are the focus of research by several Royal Roads University scholars, in collaboration with colleagues at the University of Ottawa and Western University.
The project headed by RRU's Jaigris Hodson and George Veletsianos, titled Tackling gender-based technology-facilitated violence and abuse: Reimagining a gender-equitable world, has been funded by the Social Sciences and Humanities Research Council's (SSHRC) Race, Gender and Diversity Initiative for $331,977 over three years.
They are partnering with Anova, a non-profit anti-violence organization, to focus on bystanders who can have a direct impact on mitigating online abuse and its impacts.
"We used the term 'tech-facilitated violence and abuse' because it encompasses a whole scope of negative behaviours, in which types of violence or abusive behaviour are directed to one person from another," explains Hodson, Canada Research Chair in Digital Communication for the Public Interest.
"It is a tough problem to fix and that's why we're very interested in bystanders," she says. "This grant is looking at people who could be witnesses to this type of violence and abuse. In particular, we're asking young men to intervene… and we think that because our social networks are such a strong source of behavioural norms for young people, we are hoping we can make inroads on this problem."
To that end, this project is aiming to develop educational materials and approaches for digital bystander intervention.
"When third parties intervene and support people who face abuse, they help them deal with it in unique and effective ways," says Veletsianos, an RRU professor who is also Canada Research Chair in Innovative Learning and Technology. "For example, they can speak up when abuse happens, share messages of support, report abusive behaviours to the relevant social platforms or document the abuse. Our research will develop effective, engaging and efficient materials to prepare people to intervene, and will make these materials available so that anyone can adapt and use them for free."
The stakes are high, says Chandell Gosse, an RRU post-doctoral researcher who brings her expertise in online abuse and extremism to the project.
Gosse says other research shows men and women experience technology-facilitated violence and abuse at the same rate.
"The difference, however, is in the kind of harm perpetrated," she explains. "For example, women are far more likely to be targets of image abuse (non-consensual distribution of intimate images, non-consensual sexual deepfakes, etc.). And transgender, two-spirit, gender non-binary as well as Indigenous, Black and other people who face systemic oppression will receive hate, abuse, and harm directed at them for who they are."
Adds Hodson: "Women and people who are non-binary, transgender tend to receive more violent forms of abuse and more things like rape threats that are very disturbing and emotionally and psychologically damaging to people.
"Even in instances when online abuse doesn't translate into physical violence," she says, "there are very embodied consequences for people. People will experience emotional distress, burnout, inability to do their jobs, which can affect their income.
"So even without physical violence, online abuse is not just left at the social platform or on your computer."
While the world and the Internet can be dark places — from the online misogyny around the recent, high-profile Amber Heard/Johnny Depp trial, to the online vitriol transformed into offline violence Jan. 6, 2021 in Washington, DC — that doesn't discourage the researchers.
"The fact that we live in this world right now is precisely why we need to keep fighting these battles," Hodson says.
How you can help
Chandell Gosse says the research team plans to "really dig in and figure out exactly what people can do" about online abuse. In the interim, she offers a few tips for people who witness tech-facilitated violence and abuse (TFVA):
Don't downplay the harm because it is online. Don't tell people "it's just online" or that they should turn off their computer, phone, etc.

If you see someone experiencing TFVA, send them a message to acknowledge the harm they are experiencing and express your disgust with the perpetrator. Solidarity and a kind message can go a long way when your inbox is full of nasty messages.

Ask if you can help them document the abuse. It's hard to reread awful messages or see misused images of yourself, but capturing screenshots might be important down the line.

Report — everyone can report a person or a post. It might not always go anywhere, but it is worth doing.