Design Thinking Challenge teams present innovative, practical ideas
Topics
Featured
Share online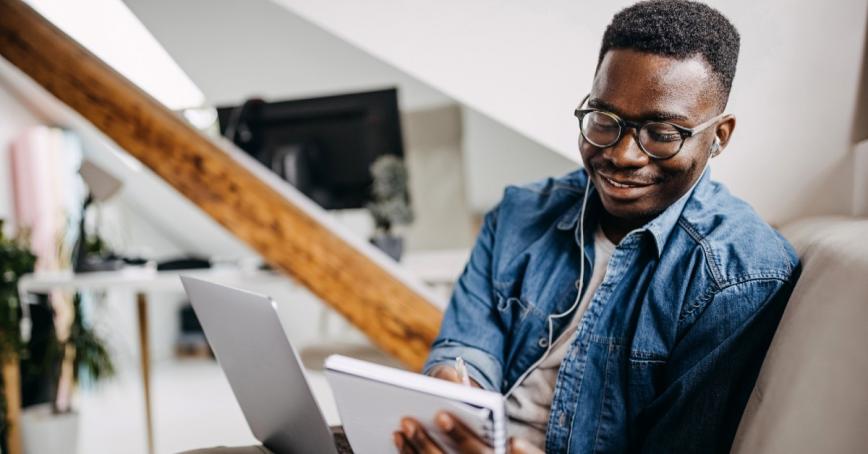 Over four weeks and three challenging rounds, a dozen university teams put their problem-solving skills to the test in the fourth annual Royal Roads Design Thinking Challenge.
The challenge asked teams of students to use design thinking to solve the tricky problem of how this year's client, the Wilderness Tourism Association, could promote seasonal adventure tour experiences in the local market.
Design thinking is an innovative approach to solve complex problems using empathy and continuous prototyping.
Business students from across Canada and the United States wowed judges in the online competition with students from McMaster, Wilfrid Laurier and Simon Fraser universities earning top honours for their innovative and compelling solutions.
First place winners Jennifer Hong and Hrithik Sharma from McMaster University found that while the BIPOC (Black, Indigenous and People of Colour) community makes up almost 40 per cent of the population in BC population, they are rarely represented in tourism marketing materials.
Hong and Sharma, who are in McMaster's Integrated Business and Humanities program, found that while the BIPOC community felt comfortable participating in outdoor tourism, they didn't feel they belonged there.
"When you go on those travel websites, a lot of the pictures are of just nature and white, affluent travelers," Hong says "We wanted to encourage a representation that reflects and involves the incredible diversity of Canadians within tourism starting with the photos we see in advertisements."
The team also presented complementary steps to their solution focused on talking the financial, social and comfort barriers that they found prevent the BIPOC community from fully participating in the industry, including a youth council and university learning program partnerships to help make the outdoors more accessible and affordable.
"Diverse marketing, while essential, does not work by itself," Sharma says. "Our solution would ultimately benefit both the BIPOC and tourism community."
The McMaster team stood out for the quality of the research and innovation in identifying what is not typically thought of as a traditional market segment, says challenge co-organizer and School of Business Assoc. Faculty member Michael Pardy.
"I think their solution is reflective of some wider conversations tourism needs to have, so I think it felt bold and fresh," Pardy says.
Students from Wilfrid Laurier University snagged second place for their idea to promote BC experiences and safe travel opportunities through an alliance between Airbnb and the Wilderness Tourism Association. The team found that the boomer generation, or those aged 54 to 72, not only has the disposable income to travel, they are highly motivated to do so. By targeting this population, the team found the WTA could leverage the popular vacation rental site to reach a greater audience interested in experiencing outdoor adventure activities.
Simon Fraser University placed third for its idea to target a fast-growing market segment defined by their commitment to health and sustainability. Known as LOHAS (lifestyle of health and sustainability), the students say this group not only seeks genuine and authentic experiences but are also willing to spend more for services that align with their values.
While reigning 2020 Royal Roads didn't place this year, the students stood out for "showing up" in ways that surpassed expectations, Pardy says.
"As hosts of the challenge, the Royal Roads team not only had time to work on their own challenge, but also reached out to build community with the other teams," Pardy says. "That's going above and beyond."
The Wilderness Tourism Association is reviewing the top three ideas created during the challenge and sharing them with its business members for consideration.
"The things students came up with were eminently practical," says Scott Benton, WTA executive director. "Businesses are probably more anxious right now than they were this time last year because they know how rapidly things are changing…. They're very anxious, so this notion of being able to build the domestic market is really what they've got their fingers crossed for."