Curiosity and authenticity keys in corp. world for RRU grad Tess York
Topics
Featured
Share online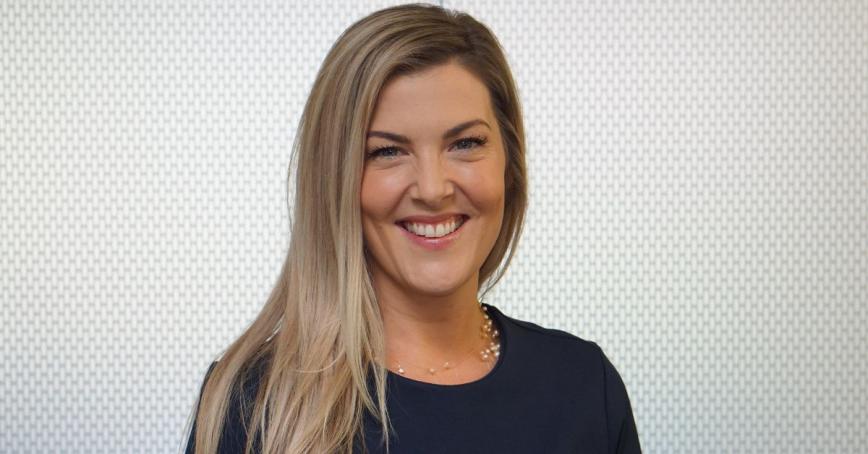 For more than 15 years, Tess York has climbed the corporate ladder — from administrative assistant to project management analyst, from contractor to manager, from senior director to vice-president.
And with each grasp of the next rung, she has carried two things that, rather than weighing her down, lifted her up: curiosity and authenticity.
"I love the question 'Why?'" says York, vice-president of business operations, strategy and marketing at Flex — a diverse global manufacturer that employs 170,000 people across 30 countries.*
"I'm a goal-oriented person but my goals are on areas that I want to learn or grow," she says, explaining her curiosity-first approach. "I love feedback, especially constructive feedback. When I get that, I get hyper-focused on how I can develop knowledge, develop a skill. And when I've done that, opportunities present themselves."
There have been opportunities aplenty since she completed a Bachelor of Commerce in Entrepreneurial Management at Royal Roads University in 2012. After working as a contractor for RRU on business and relationship development with Alberta colleges, she moved on to the oil and gas sector in corporate development. She joined Flex early in 2016 and has since handled several jobs in different locations: from senior manager of strategic initiatives in the Bay Area in northern California; to director of marketing for the industrial side of the business in Austin, Texas; ending up in her current position which has brought her back to her hometown of Victoria, BC.
As a leader in her organization — Flex's youngest vice-president — York says she expects her team, like her, to approach work with curiosity.
"Curiosity is embraced and encouraged rather than brushed off. If somebody is asking questions that are thoughtful, let's dig in and get there, and if we need more time to have the discussion, let's take that time."
The other key quality she carries with her is authenticity, and that relates directly to her position as a woman who's a leader in the corporate world.
"Being a woman executive is not a hindrance, it's actually a great benefit," she says.
"We've been trained, especially as women in corporate environments, to show up in our more masculine selves. One, that is a huge detriment to yourself as a human. Two, it's a huge detriment to the health of the business, the organization, your team because diversity is progress, diversity is the magic.
"My biggest lesson is to show up authentically and embrace my typical feminine qualities, such as empathy, and bring that to work," York adds. "It's a lesson for everyone, not just women. Just be authentic, and it's OK being vulnerable. You end up making stronger connections and building trust when you're honest."
She also brings to work her Royal Roads education.
"It was such a rich experience for me in so many ways. I learned so much about myself, about business, from my peers," York says, noting her cohort contained students with a wide variety of backgrounds and experience.
"The format of working in teams," she adds, "has helped me incredibly in business because it mirrors an actual organization.
"But the real value to me was how it forced you to think about problems. Think about them as if you owned that business. The critical thinking, the strategic thinking, the analytical thinking that is essential in leadership — that's what it really nurtured."
* What does Tess York's company, Flex, do? It manufactures products for a huge variety of companies, including automotive parts and technologies; life-saving and -enhancing health care devices; lifestyle products such as Nespresso coffee machines; clean-energy equipment such as energy storage and EV charging stations; and even, by repurposing production lines to respond to the pandemic, thousands of ventilators used in hospitals around the world.  
We always want to hear stories about the people, programs and places that are the Royal Roads experience. Share yours via the RRU Story Exchange and it could be featured on our web site and social media.