Topics
Featured
Share online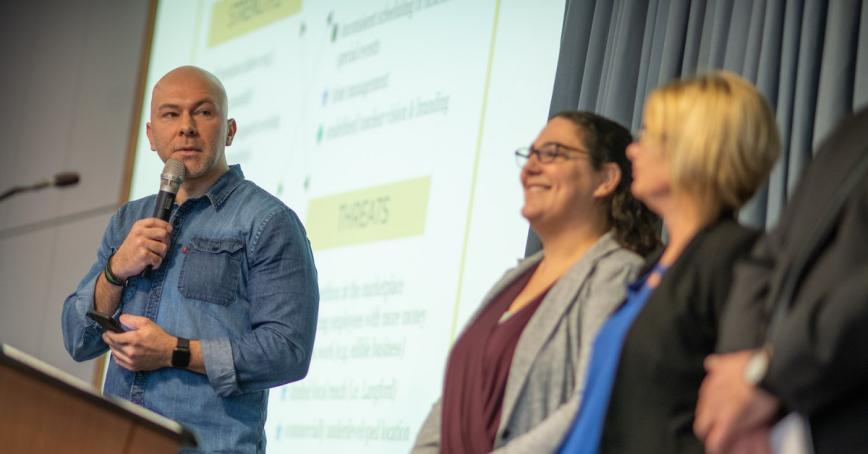 The excitement in the Centre for Dialogue on the Royal Roads campus is palpable. Teams fueled by collaboration, adrenaline and possibly more than a little caffeine are buzzing and ready to present the culmination of their residency for the Master of Arts in Professional Communication (MAPC) program, the Organizational Communication Challenge. Now in its 11th year, organizations from different backgrounds pitch communication problems to teams of students who use their new knowledge of theory, research and applied learning and create comprehensive and present communication strategies.
MAPC alumnus and former challenge participant Andy Watson knows what it's like from both sides of the table, having been through this crucible as a student and as part of a client organization.
"I can tell you that you have to be courageous and willing to hear feedback, even if it's critical, because the students are at the top of their game. You're going to have creative solutions that challenge an organization's way of thinking," he says.
The business client in the challenge for this round is local café and caterer House of Boateng, led by Chef Castro Boateng, who came to Canada from Ghana with his family when he was nine years old. The restaurant offers upscale casual fare in the heart of Langford, but they also put on special events, have full service catering and make Insta-worthy cakes. Chef Castro and his team have been trying to focus marketing and communication efforts for these revenue streams within the confines of a small business budget, and they've asked the students for their ideas.
The first group to take the stage presents the phases of their strategic communications plan in food terms (for example, research into the problem is titled "foraging") and has come up with a leadership communications strategy that advises shifting some of the day-to-day grind away from Chef Castro and sharing more of the promotional work with his team.
The next group of students starts off with a survey of the room: guests are invited to share a "hello" in a language other than English. This leads the group to a Ghanian word, "Akwaaba" which means welcome, and is the foundation of both the House of Boateng's culture and the students' presentation. These students built their communications strategy around Chef Castro's abilities as a storyteller, and point out the restaurant already has a significant strength as a community gathering place that demonstrates the feeling of Akwaaba.
At the end of the morning, the House of Boateng is leaving with two communications strategies and expert help they can continue to call on in the future.
"Every single thing they've said is definitely attainable, I think some of it can start right away," says Chef Castro. "The fact that they're willing to continue to support us makes it feel even more like we're not left alone to figure this out. We'll definitely be looking to implement some of the ideas for sure."
If you think your business or organization could benefit from being part of the Organization Communication Challenge, please contact Barbara Collombin.