From cop to prof, by way of Royal Roads
Topics
Featured
Share online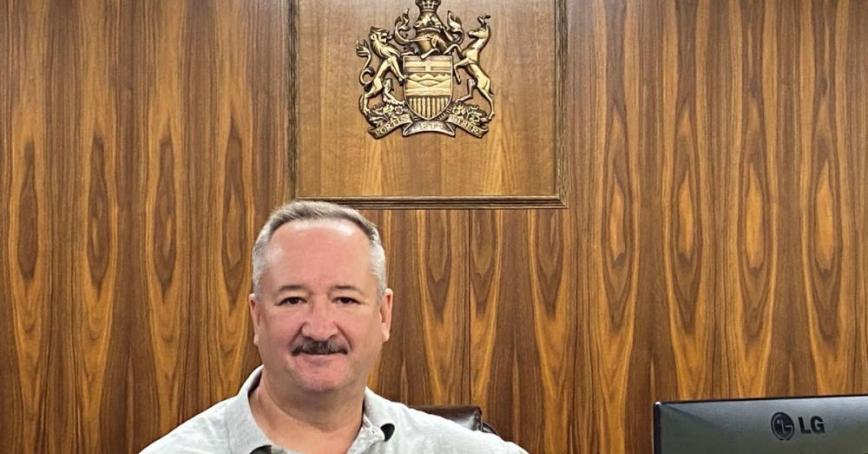 Two of David Maze's many passions are learning and teaching, and he was able to exercise both during his 28 years as a police officer in Alberta. Maze is also putting them to good use out of uniform, thanks to his time at two universities.
A native of Edmonton, Maze wore the badge of the Lethbridge Police Service for almost 28 years, working in a variety of specialties: patrol, forensics, major crimes and drugs, surveillance, and eventually policy and procedure, followed by training and recruiting. He served seven years in the integrated intelligence unit in Lethbridge and four years in Edmonton as director of the Criminal Intelligence Service of Alberta (CISA).
While working in intelligence, he began studying anthropology and archeology at Athabasca University but the competition for his time between work and school was too demanding. But he never forgot his dream of going back to school.
A fortuitous meeting in 2013 made it happen in two ways. He had taught part-time in the criminal justice department at Lethbridge College and the chair of the program asked about him teaching more courses. Within hours, he had submitted his retirement papers; two weeks later, he was teaching — introduction to criminal procedural law and mental health challenges in the justice system, among the subjects. By the next year, he was teaching full-time.
But a Lethbridge College requirement for a master's degree prompted him to look at different university programs that would allow him to work and study. He found that Royal Roads' course structure, program design and online learning options "seemed like the perfect choice."
Maze signed up for a Bachelor of Arts in Interdisciplinary Studies (BAIS), later also completing an MA in Interdisciplinary Studies (MAIS).
He loved the new academic perspective.
"When I started in policing, education wasn't necessarily a big thing," Maze says. "And so, when I started to take the courses at Royal Roads, it really expanded my understanding. I'd had a lived experience of being a police officer but now I was studying from an academic perspective what public safety is. To sit down and look at it from an academic side… or from an evidence-based perspective, really changed my understanding of what I'd done for 27 years."
His time in the programs also paved the way for his future.
"It enhanced my ability to teach better in the classroom," Maze says He also learned how to teach in a distance learning environment from being a student in one himself.
As well, interdisciplinary studies allowed him to take masters-level classes in education even though he wasn't an education student. He credits that background for helping him take on the position of chair of the Centre for Justice and Human Service in Lethbridge College's School of Justice Studies.
And even now, a year past his MAIS graduation, he's a cheerleader for Royal Roads, saying that not only is he still in touch with instructors and classmates, he's also aiming to bring the best of his RRU education to his students.
"Those relationships stick… Those relationships that were developed in the cohorts, those relationships that were developed between instructors and students, and how welcome you felt — that caused me to say, 'OK, this needs to feel the same way here. We need to emulate that."