Collisions for innovation
Topics
Featured
Share online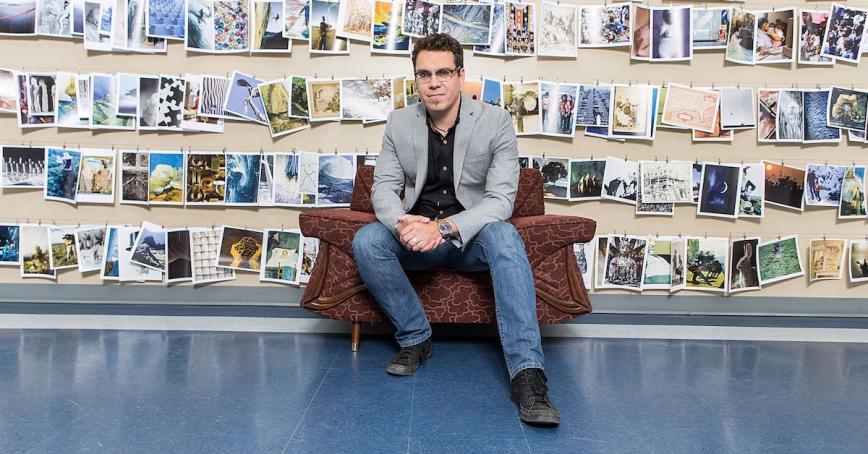 Sometimes the solution to a problem can come out of an unusual collision with ideas that are different from what we're used to – a "jarring" experience to remix ideas and show the way to solve a complex problem.
Master of Arts in Leadership (MAL) grad Ben Weinlick seeks out those happy collisions to bring solutions to his work as an executive director of a large disability rights and service nonprofit and as a co-founder of a startup dedicated to helping people with disabilities have better agency over their own care and lives.
Weinlick, Executive Director of Skills Society in Edmonton AB was always interested in social justice and helping people with disabilities. Growing up with a brother with a disability led him to see how people with disabilities really hadn't had what Weinlick refers to as "their liberation moment" and that sparked his interest to make a difference. Weinlick is the first to admit he didn't have concrete plans for his career path.
"I was a rough-and-tumble young man with wild ideas and wild idealism, I wanted to show up and make some change," he says.
Weinlick credits his time at Royal Roads with some helpful collisions that jarred his thinking and led to creative leaps, personally and professionally. There weren't many other people in Weinlick's cohort who worked in the disability sector, but there were many with vastly different careers than Weinlick. And that was the key.
"Royal Roads created a platform and a space for ideas and people and sectors to collide, learn from each other and the whole is greater than the sum of parts," he says. "I was used to being siloed in my sector knowledge and that was a hugely interesting piece to my time there to collide with other ideas and sectors quite different from my own."
Weinlick's thesis work evolved into the Action Lab, a social enterprise of Skills Society. The lab provides a unique creative environment for community to tackle complex challenges and is nationally recognized for social innovation. When Action Lab is approached with a complex challenge, they bring people with diverse backgrounds together to think deeply, look at existing systems to find possible points of change, and try out interventions as solutions to "wicked" problems.
Weinlick started applying the design and systems thinking approaches he learned during his graduate program to issues in the social services sector with an eye on overcoming typical results.
"The typical way of making change is to convene a bunch of experts in a room, you're in a bit of an ivory tower, away from the challenge and the people struggling – and you create an intervention, unleash it and hope it works. Very often people say: 'that's not what we needed'!" says Weinlick. "These social innovation lab approaches are emerging and gaining acceptance nationally because they are showing promise to navigate complex problems better."
Unusual creative collisions also led Weinlick to co-found a startup called MyCompass Planning, a digital tool that helps people with disabilities to shape their support. The work and prototyping for MyCompass has been ongoing for the past eight years with partners Southern Alberta Community Living Association (SACLA), Skills Society and Lift Interactive) and the company is now scaling up across Western Canada, and will soon launch across North America.
In addition to his work with people with disabilities, Weinlick also helps others make collisions with a group he co-founded in 2010 called ThinkJar Collective. They offer consulting and workshops, and their website is also packed with short articles and tools to help "jar" those creative collisions loose.
"What's always fascinated me, and was amplified at Royal Roads, was being in awe of where good ideas come from, and unusual collisions with disparate ideas and fields are often the source," says Weinlick.