Co-working space meets childcare at BCom grad Carnio's ProducKIDvity
Topics
Featured
Share online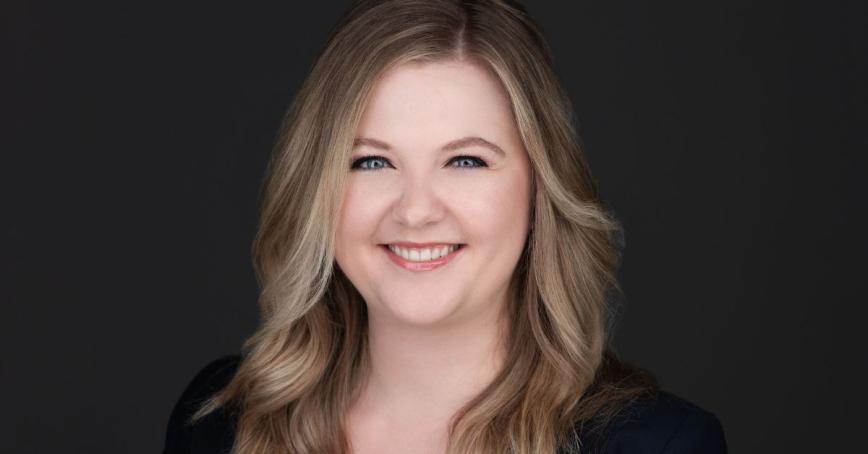 When Alexandra Carnio graduated from Royal Roads University's Bachelor of Commerce in Entrepreneurial Management in 2013, she had no intention of being an entrepreneur. 
While she'd considered putting her schooling to use as an intrepreneur — using those skills within an organization rather than as the owner of one — she worked in banking and for non-profits, and she held business planning workshops for Alberta Women Entrepreneurs.  
Five years after graduation, however, her desire to be self-employed bubbled up and she started her own social media marketing agency just as she found out she was pregnant with her first child. 
Nine years after graduating from RRU, Alexandra has sold her marketing business. She's now a mother of three, with twins, and she's started her second business venture based on her experiences as a mom struggling to find daycare and juggling the demands of family and work. 
In April of this year, Carnio launched ProducKIDvity, a combination daycare centre and co-working space in Kelowna, B.C. Boasting a 5,000-square foot daycare downstairs and 4,500 sq. ft. of office space upstairs, the facility quickly reached capacity with 50 children plus 25 upstairs tenants. The business also employs an on-site chef who cooks for the kids, prepares lunches for tenants and even take-home meals for busy parents. ProducKIDvity has a significant waiting list, Carnio says, and the company will start on its next location in Kelowna in 2023. 
Two factors planted the seed for the business, Carnio says: her experience as a mom searching for and dealing with daycare, and the effects of the pandemic on people's working lives. 
Recalling running her first business with her one-year-old daughter, Leighton, she says, "I'd spend all this time driving to and from daycare… then I'd turn around and do the whole thing all over again. So, I quickly realized how inefficient my time had become between trying to be a mom and trying to be a business owner. 
"I was spending money on an office, I was spending money on daycare but all I was doing was driving and worrying about daycare." 
When COVID hit in early 2020 and she was forced to work from home with Leighton, who's now three, she started to ask herself "what would my ideal situation look like?" 
That's where the idea for ProducKIDvity came from.  
"I know just how hard it is to hop on a Zoom call when you have small, screaming children in the same room with you," says Carnio. "We wanted to create a space where you're productive because you don't have to spend your day driving between your home office and daycare, but you can still have time together with your kids during the day without having to feel guilty about having to choose one or the other." 
Carnio credits her studies at Royal Roads and the "hands-on learning [she] could actually use," for helping her start and run a business. With a focus that expanded wider than textbooks and theory, the RRU BCom program allowed her to put her learning to the test by consulting for businesses in the Victoria area. She also notes that many of her classmates — people she now counts among her closest friends — have gone on to start companies and jobs of their own.  
The connections have proven valuable, too: One of her best friends from Royal Roads handled the photography and videography for ProducKIDvity's first location. 
The founder and CEO says parents' feedback has been positive because of features that include a dedicated space for feeding younger children and the "academy" approach of its early childhood development program. 
That feedback and the "overwhelming" waiting list have prompted Carnio to not only plan for another Kelowna ProducKIDvity but, also, for expansion into Metro Vancouver and Victoria. As well, the company is considering a franchising model that would see facilities in all major Canadian cities by 2030. 
And if that's not enough to handle, Carnio and husband Chris Carnio welcomed twins Declan and Sienna a year ago.
---
We always want to hear stories about the people, programs and places that are the Royal Roads experience. Share yours via the RRU Story Exchange and it could be featured on our web site and social media.