"Borne" storyteller completes Master of Arts in Professional Communication
Topics
Featured
Share online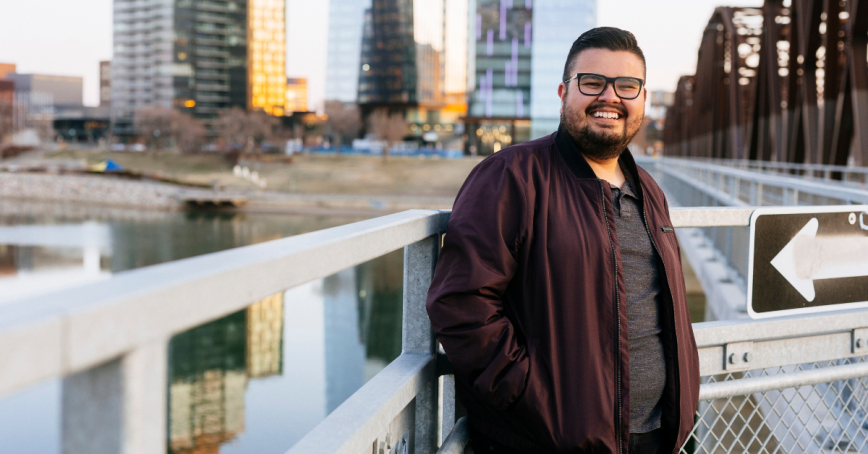 Ben Borne knew that he was a storyteller and communicator by the time he was seven. 
Using his camcorder, he shot home movies with action figures and his friends. In his teen years he grew this interest in the Saskatoon Public School Division's Media School program. The program was a first of its kind in Saskatchewan and Borne says time there taught him about writing scripts, television production, and how to shoot and edit his own stories. 
This early love of storytelling led him to a Master of Arts in Professional Communication at Royal Roads University. As an Indigenous learner from Yellow Quill First Nation in Saskatchewan, Borne says he has been fortunate to learn from the faculty, fellow students and from other peoples' experiences. His education has inspired him to train the next generation of Indigenous students planning on a career in communications. 
Borne was strategic about beginning his degree at Royal Roads. He was working as communications and media relations officer at the Saskatchewan Indian Gaming Authority – only two years into his communications career – when he first identified his interest in the program in 2015. He sharpened his skillset at the University of Victoria where he earned a Diploma in Public Relations in 2019. He lost his job in 2020 when COVID-19 hit, which changed his path entirely. Together with his business partner, he launched Symmetry Public Relations, an international award-winning communications and public relations firm and Certified Aboriginal Business by the Canadian Council for Aboriginal Business. He then applied for the program at Royal Roads to support his career development while growing the business. 
"The program allowed me to think differently about communication," Borne says. "At Royal Roads, digital communication meant being outdoors and unplugged. The theories and content made me step away from day-to-day work to examine myself and the work that I do." 
Borne wants people considering post-secondary or graduate level education to know that they will be able to grow their knowledge and skills because the program is flexible to the needs of individual students. 
"Royal Roads lets you explore. What made my experience at Royal Roads so profound was the experience I brought to the table. At Royal Roads, you get out what you put in."
Borne says there is a lot more work to be done and there is not a lot of information available in Indigenous engagement, communications and public relations research in Canada. There are many well-understood Western approaches to learning and research, but Borne says there is a growing interest in Indigenous economics related to strategic communication and Indigenous engagement. To capitalize on that, Borne has a strategy. As the first certified Indigenous Communications Management Professional by the Global Communication Certification Council, he has the confidence, experience, and self-assurance to lay a path for a new way of doing communication and engagement work.
Borne will join his classmates in the Master of Arts in Professional Communication as they cross the stage for Royal Roads' spring convocation ceremonies on June 9, 2023. He is a recipient of a Royal Roads University Founders Award, which is presented to students in each graduating cohort of a degree program for exemplifying the qualities of leadership, commitment to sustainability, positive and proactive work in equity, diversity and inclusion, and personal growth.
---
We always want to hear stories about the people, programs and places that are the Royal Roads experience. Share yours via the RRU Story Exchange and it could be featured on our website and social media.