Topics
Featured
Share online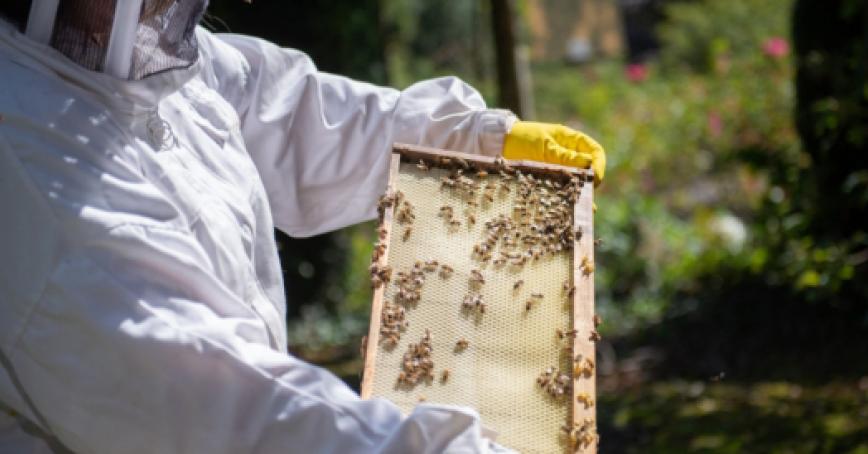 The importance of bees cannot be understated. Without pollinators like bees, a third of the food we eat would disappear. Due to problems like a loss of habitat and pesticide exposure, bee species are facing serious threats, and globally, some native and honey bee species are declining.
The diverse vegetation that populates Royal Roads university gives bee species and other pollinators access to a variety of plants that support their health.
Earlier this month, an apiary was set up beside the Hatley Park Rose Garden on the Dunsmuir tennis courts. The honeybees will spend four seasons at Royal Roads in the humble wooden structure to test whether they can thrive on campus.
Bachelor of Science in Environment and Management grad and local beekeeper Alanna Morbin owns the hive and comes to campus every few weeks to care for her chattering charges.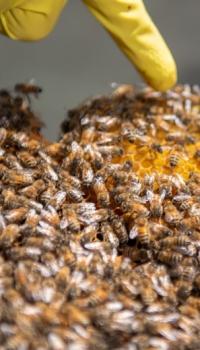 "Honeybees contribute greatly to plant pollination, which encourages genetic diversity in the plant community. Bees also provide a very engaging way for educational outreach on the life of insects, farming, and understanding pollination and plants," explains Morbin.
She worked closely with Royal Roads Head Gardener Barrie Agar, the Office of Operations and Resilience and others to establish the apiary on campus, which is one of the university's many sustainability initiatives.
"Honeybees are very good ambassadors for building that relationship between the urban environment and nature," says Morbin. "Bees are an excellent example of how we need to learn more about the species around us and how to successfully cohabitate."
What better place to learn than surrounded by ten acres of gardens and the extra bee-friendly plants recently added near the apiary that will also benefit many pollinator species?
"Honeybees have a long history with human society and go back with us thousands of years. There was a time not too long ago when small apiaries were quite present in communities, commonly found on farms and in yards. They are a low impact way of allowing everyday people to engage with the environment," explains Morbin.
Morbin, who works as an environmental officer in Victoria, volunteers with the Capital Region Beekeeping Association. Her beekeeping efforts began by studying native bee species then expanded to honeybees about ten years ago, around the time she began her studies at Royal Roads.
"I've always been thankful to the university for the care that they take with their students," says Morbin. "I thought that if there was a way I could offer something back, it might be through beekeeping or educational outreach."
During her most recent site visit, Morbin inspects the colony to make sure the bees are adjusting well, and are healthy and safe.
"These are happy bees," says Morbin.
Royal Roads Continuing Studies offers popular introductory and intermediate bee keeping courses. Bob Liptrot, the instructor, has been bee keeping for 46 years in the Fraser Valley and most recently, for the past 13 years, in Sooke. 
Any other organizations or institutions interested in setting up an apiary can contact the Capital Region Beekeepers Association.