Topics
Featured
Share online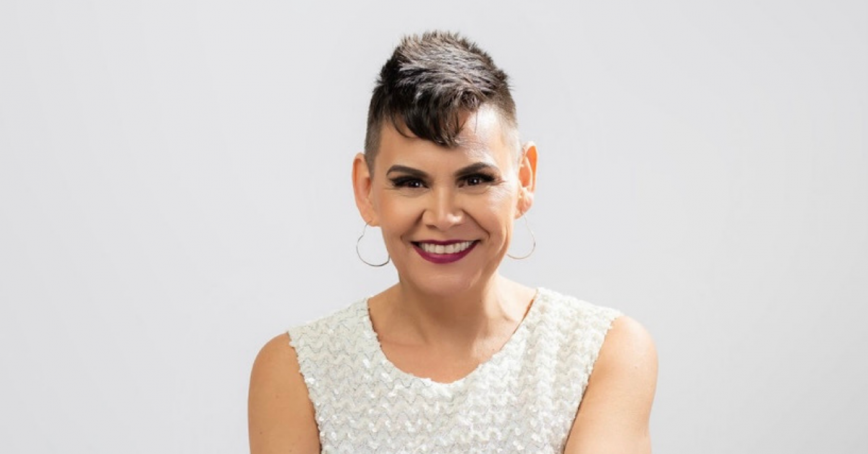 "When I was three weeks old, I had the place of honor by the wood stove in a cardboard box in the care of my extended Indigenous family. Everybody visited me in the morning because of the wood stove. That's a humble beginning. Never underestimate the power of a dream. I'm a dreamer. I've worked so hard to get this job," she said with a smile.
J'net Ayayqwayaksheelth (One who gives away and still stands tall) has come a long way from her humble beginnings.
Ayayqwayaksheelth is a member of the Ahousaht community within the Nuu-chah-nulth homelands on Vancouver Island and resides in the ancestral lands of the Anishinaabe, Haudenosaunee and Wendat (what is now known as Toronto, Ontario). She graduated from Royal Roads with a Masters of Arts in Leadership and Training. Recently appointed to the role of director, Indigenous Relations and Community Engagement at the National Film Board of Canada (NFB), she's got her eye on a future that pays respect to the past, while creating opportunities in the present.
As part of her new role, Ayayqwayaksheelth is learning French and working through the NFB's Indigenous Action Plan. She's prioritizing working with the Indigenous advisory members and is honoured to serve at the national level.
"What we're trying to aim for, is to really build on the bed of coals that the NFB has created for this position to exist," she says. Reflecting on her new workplace and it what it means, Ayayqwayaksheelth marvels, "think of what the National Film Board represents. It's a deep ocean of archived memory of a country."
Ayayqwayaksheelth approaches her leadership role with a sense of humour, which has served her well growing up and in her previous role as a trauma counsellor, before becoming an Indigenous arts leader. In her address for staff on the National Day for Truth and Reconciliation, she recorded a video message in her signature direct and irreverent style, recommending, "this might not be the best time of year to lean on your Indigenous friends and community. Go to the internet, find out what's going on."
She speaks to the aspirations she has for her work with the NFB with passion.
"That we get to change the conversation is my goal; and be able to see not just the challenges that we're all painfully coming aware of, not that we haven't had bought and paid for reports all along, telling us how atrocious we continue to be treated in every sector… We now have an opportunity to explore Indigenous excellence and ongoing contributions." She wants to see collaboration between Indigenous and non-Indigenous filmmakers, to create equity through mentorship and sharing of creative control.
"My career ambition is to bring a heartbeat into what we do, and help with the expression of the human spirit. Film is just a whole new layer of storytelling," she smiled. Although Ayayqwayaksheelth is a leader, she's not undertaking this work alone.
"This kind of work cannot be done in isolation, even at the national level," she says. There's something really magical about working my career to a point where other people support my ideas." 
Excited for the opportunity to foster the next generation of storytellers, Ayayqwayaksheelth feels prepared for her new role, thanks to what she learned at Royal Roads. As a student, she explored the concept of intersectionality, the significance of solution focused leadership and what it means to be a lifelong learner.
She created a methodology, called Cha-chim-hey-aqulth-go the right way, validating oral stories as data through a process she designed called Creative Action Circles. The spirit of her thesis was about bringing generations together to tell their story, unapologetically. Ayayqwayaksheelth sees film as a medium to share Elder's stories and pass down Indigenous knowledge.
"We've been cut off from our stories for so long. This is a window now with this digital era, to get the young people to be a part of that new wave of 'we will no longer be silenced.'"
Beyond the educational aspect of film, there's also the issue of representation in film, which captures Ayayqwayaksheelth's interest. She categorizes it as overdue and spoke to its role as "to not just educate the Canadian public about the challenges, which is half of the coin, but again to also allow for the next generation of Indigenous young people to see themselves represented way more respectfully."
Ayayqwayaksheelth has approached her rise to leadership with humility. While she came from humble beginnings and has risen to a leadership role, she approaches it with humility.
"I don't know anything except that I have a dream job and an outstanding team and the most beautiful country in the world I'm pleased to represent," she says.
From a cardboard box beside the wood stove, to the bed of coals gathered by the NFB creating her position, Ayayqwayaksheelth is lit up with the opportunity to represent Canada, Indigenous people and a vision of the future that contributes to deeper, mutual understanding of the past, present and the future, which is possible.