25 years as a public university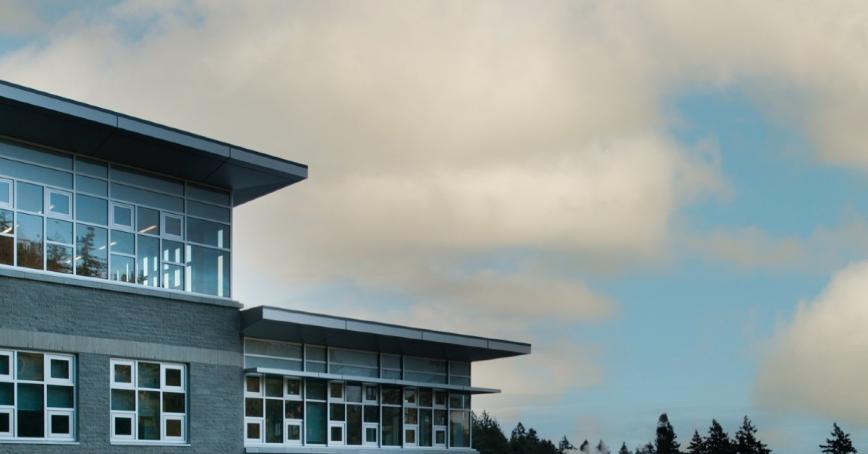 When Royal Roads University opened as a public university in 1995, it had an audacious vision: to become an engine of lifelong learning for students no matter where they are in the world, their careers or their life.
"RRU wanted to be different"
"RRU wanted to be different, to not be like the other post-secondary institutions," says Steve Grundy, School of Environment and Sustainability professor and one of the key builders of Royal Roads.
They started with a question.
"We wanted know which students weren't being served in the current system. The answer was older students already in the workplace who wanted to achieve more, or who didn't have undergraduate degrees but wanted to expand their education."
Royal Roads would be a place where flexibility matters, where life and experience counts towards university admission, and people with dreams and talent are welcomed through our doors. And, where students already in the workplace could expand their education and keep working.
"We're going to use this thing called the internet"
"And guess what?" Grundy says, "We're going to use this thing called the internet to try and figure out how to do that. And of course, people just thought that was insane."
To achieve our goals, Royal Roads leveraged online, making it high-quality and real-time, a first in Canada. Then cemented this with extraordinary in-person teaching.
"The big deal was the fact people could go back to school and still carry on with their lives," says Cecilia David, IT customer service manager.
A staff member since before Royal Roads even opened, David, and other members of the team, developed the first tool that let students and faculty collaborate asynchronously no matter where in the world they were learning.
She was at the front line in teaching students how to use then-new digital technology. Take the student who was working on their degree while at sea in the Canadian Navy. Why did they lose access to their RRU course?
"After some troubleshooting with our members at sea, we determined that when the ship came about, the mast cut off the satellite signal," says David. Once the cause of the problem was identified, students had the information they needed to manage their studies in their own unique environment.
"I think I see us reaching more and more people," says David. "We've proven how much work we can do whether or not we're in the same room. There are no boundaries."
"I think we move faster"
"We are not conventional," says Zhenyi Li, School of Communications and Culture professor and director.
Li says that being a young, dynamic university that embraces change is a strength. "I think we move faster than the other universities."
With courage at our core we were creating new ways to teach and learn, dialing into current global trends. We focused our programs on three themes: sustainable development, the entrepreneur, and empowering leadership, then challenged our students to solve real-world, wicked problems.
This created a nimble, adaptable environment to get programs up and running quickly and in response to market need.
Alongside academic studies, students would be truly collaborative. Passionate, determined and confident lifelong learners were connected to a network of like-minded people. They would inspire each other not just in their careers, but to build stronger communities and create global change.
Our ever-growing alumni community were overwhelmingly describing their education as a "change your life experience," so we rebranded to recognize their 'Life.Changing' journey. Students graduated as transformational leaders, shaped as much by what they learned as who they studied with – a cohort connected for life.
"Everyone has a story"
"It's not just learning by the book," says Athena Madan, School of Humanitarian Studies associate professor. "It's not just learning for a degree. It's learning to change the system and to improve people's lives."
For Madan, the win is helping the students recognize and achieve their learning goals.
"Everyone has a story of something that happened in their life that they want to change," she says.
Madan was also chair of Royal Roads' anti-racist task force, which was established in 2020, and led to the creation of the 2021 anti-racism action plan. Stakeholders from across the university community provided input.
"All of them are very committed to anti-racist action and helping achieve an environment where people feel like they belong," Madan says.
The courage to spark change — whether for a student, Royal Roads, or the world — guides the work of the university. 
Royal Roads is working toward reconciliation with Indigenous partners, and with everyone in our community to create an equitable, diverse and inclusive environment that supports student, staff and faculty success.
The road ahead: "There are no boundaries"
Today we are experts in online learning, but keep students strongly linked to professors.
With professionals as students we have CEOs in many classrooms, and cohorts solving problems that matter to today's world. Our learning is creative and introspective to spark new thinking that changes long-held systems and improves people's lives.
As we reflect on the past and celebrate our 25th anniversary, Royal Roads University is moving confidently into the future.
-
As we celebrate 25 years as a public university, we're also celebrating our past in order to transform the future. Read more about life in the of our weekly series exploring the past, present and future of Royal Roads: royalroads.ca/25.