The Importance of Feedback Partner Collaboration
Featured
Share online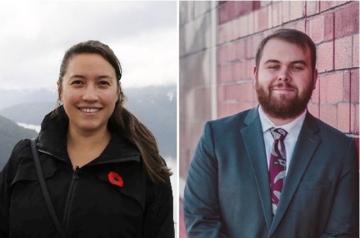 Tamara and Jake are currently finishing their MA-Leadership programs with the LEAD680 course.
The Importance of Feedback Partner Collaboration for MA-L Engaged Leadership Projects
Royals Roads University (RRU) offers Master of Arts in Leadership (MAL) students the option to conduct a Thesis or an Engaged Leadership Project (ELP). Coming at the end of the two-year program, the capstone provides an opportunity for students to immediately apply their learning in their work or volunteer systems/environment. Jake Tourand and Tamara Pittis joined the 2021-1 MAL cohort in January 2021, and both decided to pursue an ELP for their capstone projects. Here are their thoughts about their learning partnership:
We self-selected to be ELP pod-mates as we worked well together as feedback partners over multiple terms and as teammates for our first-year virtual MAL residency Learning Challenge. Our Learning Challenge involved assisting a British Columbian non-profit organization with a leadership issue and presenting a solution to the non-profit board and to our classmates. Over the two years of our MAL journey, we genuinely believe in the value of being feedback partners to keep us on track, enrich our experiences, and improve our final products. Jake conducted his ELP within his workplace on Indigenous inclusion and Tamara pursued a first-person inquiry on spirituality in leadership using the Indigenous Methodology of Two-Eyed Seeing (Bartlett et.al., 2012). 
Conducting an ELP over six months can seem daunting as students are required to develop and monitor their timelines with the assistance of a faculty advisor. Students in this mid-career adult program may also face additional pressures of balancing work, family, and other commitments with the self-paced nature of the ELP; however, the RRU School of Leadership Studies ensures ELP students have additional support system through pod-based learning.
Thanks to our close collaboration, we successfully accelerated our ELP timelines and finished our capstone term in just over four months. Upon reflection, here are four tips to help future MAL students co-create ELP success together:
Know your learning and work style and select ELP partners with similar values and work ethics. It helps to have someone as a pod-mate who challenges and pushes you to articulate greater clarity and deeper thinking throughout the project. Selecting pod mates with similar or related projects and community-based participatory values lets you share continuing internal growth throughout the different stages of your ELP project. It can sometimes feel uncomfortable with the level of growth you experience during the ELP, so we found it essential to be honest with yourself and authentic with your feedback partner. Tamara and Jake both value trust, honesty, and hard work.
Set clear course expectations early on with pod-mates and with your ELP supervisor. Both Tamara and Jake entered their capstones intending to finish the ELP process early to allow time for personal commitments later in the term. This clear expectation around timelines ensured we kept on track and were ahead of proposed deadlines.
Take advantage of any "free moments" or downtimes and RRU resources. Tamara and Jake thought about potential ELP topics early in their MAL journey. Tamara used the MAL LEAD517 self-directed elective to research topics of interest. We also took advantage of the downtimes during the second year virtual MAL residency and the break between terms to advance our ELP proposals. This allowed us to refine our topics early on, research and read literature, and draft our ELP proposals.
Establish clear communication channels. For Tamara and Jake, connecting via text and video calls regularly allowed for any challenges to be tackled early on. Frequent and open conversations fostered our friendship and allowed immediate support, such as offering life challenges guidance or help with APA7. We worked independently on our projects but checked-in weekly, or sometimes daily, and provided support and assistance to each other. We would also recommend developing a good relationship with your pod supervisor and asking questions as they come up. Being flexible in accepting help from all sides accelerates the collaborative capstone process and makes the project something to be proud of.
Working with a friend and MAL peer throughout an ELP capstone made for an enjoyable process while experiencing a lot of personal internal growth and witnessing systems changes taking place around us. While the ELP process can seem scary, particularly at the beginning, walking this journey with a good feedback partner and a defined process helped us be successful with internal and system-wide change. 
Our advice for those about to enter their ELP: we know it can feel like a lot of work, so please remember to be kind to yourself!
Tamara and Jake

Reference:
Bartlett, C., Marshall, M., & Marshall, A. (2012). Two-Eyed Seeing and other lessons learned within a co-learning journey of bringing together indigenous and mainstream knowledges and ways of knowing. Journal of Environmental Studies and Sciences, 2(4), 331–340. https://doi.org/10.1007/s13412-012-0086-8