Featured
Share online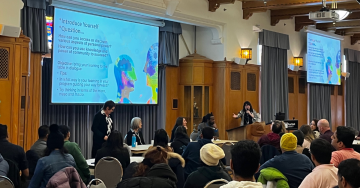 Cross-Cohort Collaborations Support Transdisciplinary Thinking
It is recognized that the way forward to addressing our biggest global wicked challenges requires much more than what we have been doing so far. In these VUCA (volatility, uncertainty, complexity, ambiguity) times, we require a collective vision to guide practices that serve to address these challenges. A collective vision can be ignited by bringing together people who share the same dream but approach that dream from multiple perspectives, angles, and therefore education. A transdisciplinary approach of diverse people and groups will be key to our success.
This insight was embraced, led, and organized by the Global Leadership Program with Lisa Corak, Program Coordinator, at the helm. Connecting with the Masters in Global Management Program team, Dr. Deb Linehan and Tim Kituri, Lisa created the idea of a cross-cohort event to bring together on-campus students of the Global Leadership Program and the Masters in Global Management Program, on June 30, 2022, in the Quarterdeck. Students heard a panel from across different RRU programs: Dr. David Black, Dr. Deb. Linehan, Dr. Juana Du, and Dr. Wanda Krause. Then, from their diverse perspectives and program orientations, they dove into addressing: How do we level up our intercultural communication to help us lead forward in complex global challenges? 
With the heartwarming affirmations of experience and brilliance of ideas that came forth from this small group, Lisa led the launching of a second "cross-cohort event" on Jan. 24th under the theme, "Pathways to Power". The almost "sold out" event in the Quarterdeck saw a jump in attendance from 20 in two programs to almost 100 with five programs participating.  With the help of Selena Kunar in Student Engagement, a new registration system was added, and Dr. Pedro Marquez, again, offered a cordial welcome to all graduate on-campus students to the event.  The panel and cohorts explored the theme: Personal and Collective Power Toward Transition. The panel, including Tim Kituri, Dr. Robin Mueller, Dr. Marnie Jull, and Dr. Wanda Krause, brought various perspectives on power to the students.  Students then grappled with the questions: "How can we access or discover various aspects of personal power.  How can we use knowledge and power of community to succeed? The event design allowed a significant amount of time for students to report out ideas their tables collectively wove together, demonstrating a depth of knowledge and a breath of relief and humour in their journeys of personal power. These events all end with an informal time to mingle with coffee to create relationships and networks. 
"Future of Capitalism: A Transdisciplinary Design" is cross-cohort event #3 and is already underway, being taken forward and organized by MGM's Deb Linehan. This next event will take place in the last week of March over an hour and a half lunch hour (brown bag lunch). This opportunity provides a space for students to gather from various on-campus programs and deliberate together. Their next task is thinking through what the generative (leadership, personal, political, relational, systems) practices are that we can adopt in the age of the Anthropocene. These are difficult times that require bringing together the brilliant minds of RRU students across programs, also skilled in diverse ways to address the wicked issues of our times.