Featured
Share online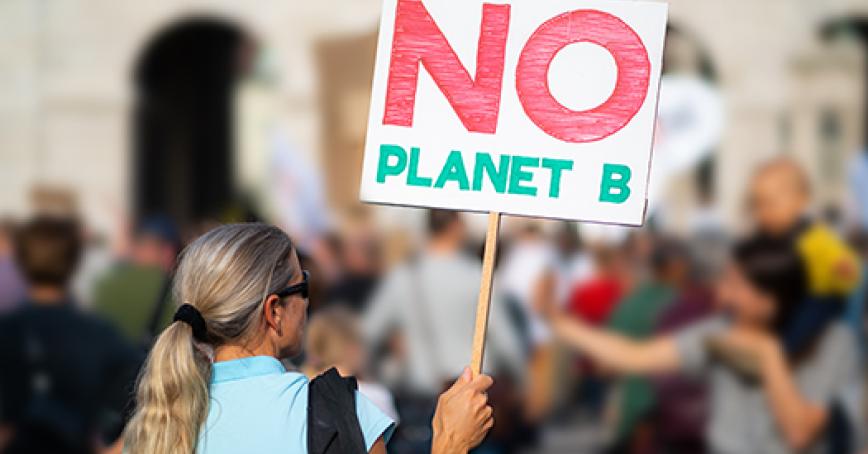 -
Timezone: PDT
Webinar
Online
Sue Big Oil: A Climate Action Campaign of Accountability
Join us on October 12th, 2022 at 12:00 pm (PDT) for a panel discussion on the Sue Big Oil campaign. The session will be moderated by Dr. Robin Cox, Program head for the MA in Climate Action Leadership program. Our panelists are Andrew Gage, Adriane Carr, Stepan Wood, and Avi Lewis.
The campaign to Sue Big Oil is a bold, new strategy in a movement to ensure that the fossil fuel industry pays its fair share for the financial and human costs of climate change. Taxpayers and the municipalities they support are on the hook for millions of dollars as they work to prepare for and recover from the impacts of climate change. And these impacts are increasing and accelerating while the costs skyrocket. We all share responsibility for climate change and have a role to play in addressing it. The proposed class action lawsuit against global oil and gas companies like Exxon Mobile, Chevron, and Saudi Aramco is framed by organizers as an attempt to make those companies pay their fair share of the harm caused by the fossil fuel economy.
Join this dynamic panel discussion as we unpack the ideas behind this bold and controversial campaign. Learn more about the campaign and the ways in which it is designed to give individual citizens and municipalities a way to engage in scalable, impactful climate action while heightening awareness and public debate about climate impacts and accountability. 
Andrew Gage is a West Coast Environmental Law staff lawyer and project lead for its Climate Change program. Under his direction, the program has focused on the legal and professional consequences – to industry, government, and professionals – of failing to address climate change, most recently co-launching the Sue Big Oil campaign. 
Adriane Carr, City of Vancouver Councillor; the existing council has agreed to support this legal challenge. In 2011, Carr was elected as Vancouver's first Green Party City Councillor, winning her seat by just 90 votes. Now in her third term, she chairs the city's Policy and Strategic Priorities Committee, is a Council liaison to the city's Urban Indigenous Peoples' Advisory Committee as well as to the Civic Asset Naming Committee, a Council representative on the city's UNDRIP Task Force, a Council representative on the joint Council-Vancouver School Board and the city's representative on Metro Vancouver Zero Emissions Innovation Center. Carr is also a director on the board of Metro Vancouver, chairs Metro Vancouver's Climate Action Committee, and sits on Metro Vancouver's Finance Committee.
Stepan Wood is a law professor and co-author of an open letter signed by 28 lawyers calling for climate accountability Litigation in Canada. Professor Stepan Wood is Director of the Centre for Law and the Environment and Canada Research Chair in Law, Society and Sustainability at the University of British Columbia's Allard School of Law. He has published extensively on environmental law, climate change, sustainability, globalization, corporate responsibility and transnational governance. He has created and taught courses on climate change law at Osgoode Hall Law School and Monash University. He has consulted for local, provincial and international governmental organizations and has advocated for various climate-related initiatives including to hold carbon majors accountable for climate damage. At the Centre for Law & the Environment he leads projects celebrating "green rights and warrior lawyers" and advocating for legal recognition of our non-human relatives. 
Avi Lewis is a documentary filmmaker, journalist, and educator.  His 25-year journalism career has spanned directing and producing theatrically-released documentaries to hosting and reporting for tv networks worldwide. In 2017, he co-founded The Leap – a grassroots climate organization launched to upend our collective response to the crises of climate, inequality and racism.  In 2021's Federal Election, Avi was the NDP candidate in the West Vancouver–Sunshine Coast–Sea-to-Sky riding. He is an Associate Professor in Geography at UBC and an executive committee member of the UBC Centre for Climate Justice
This webinar is the second session of a series on climate change and climate action webinars sponsored by the Climate Action Leadership program at Royal Roads University. Stay tuned for the upcoming sessions. 
We encourage you to register even if you are unable to attend. Everyone who registers will receive a link to the webinar recording.
If you have any questions, contact an enrolment advisor here or at 1.877.778.6227.
Register