Share online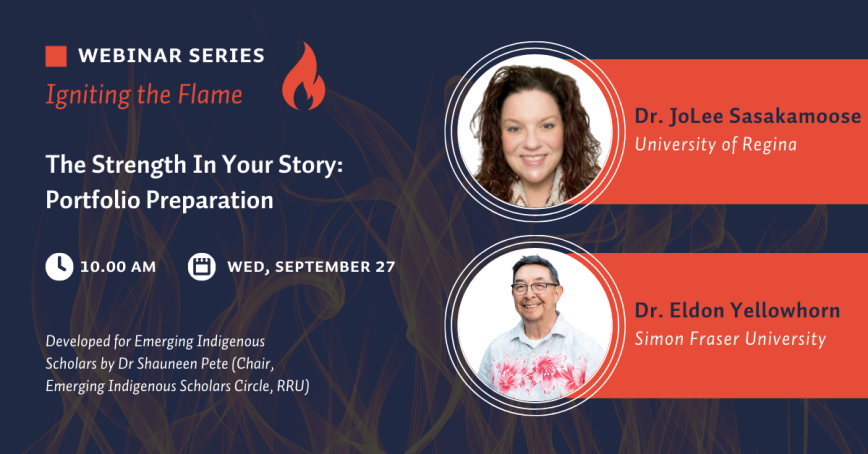 -
Timezone: PDT
Webinar
Online
Join Dr. JoLee Sasakamoose (University of Regina) and Dr. Eldon Yellowhorn (Simon Fraser University) Wednesday, September 27 at 10 a.m. for the second installment of our Igniting the Flame webinar series. The series is designed to provide support to emerging Indigenous scholars working in Canadian universities.
A question-and-answer period will follow presentations in this free event. Registered participants will receive a Zoom link prior to the event. Please feel free to share this invitation.
Dr. Eldon Yellowhorn
Dr. Yellowhorn is member of the Piikani Nation and has family and cultural ties to the Peigan Indian Reserve. His Piikani name, Otahkotskina, which translates as Yellow Horn, has been in the family for generations. His early career in archaeology began in southern Alberta, where he studied the ancient cultures of the plains. He is especially interested in using the mythology and folklore of his Piikani ancestors to interpret the archaeological record of the northern plains. As a native speaker of the Blackfoot language, Dr. Yellowhorn is working to preserve it and ensure its future. He is exploring the potential of artificial intelligence, such as chatbots and text-to-speech modalities, for creating language-learning applications that introduce Blackfoot to the next generation of speakers.
Dr. JoLee Sasakamoose
Dr. JoLee Sasakamoose is a highly accomplished and dynamic educator, researcher, and advocate for the well[1]being of Indigenous peoples. As a member of the M'Chigeeng First Nation in Ontario and an active citizen of the Ahtahkakoop Cree Nation in Saskatchewan, she brings a deep understanding of Indigenous communities to her work. Dr. Sasakamoose holds a Bachelor of Arts in Social Science from Michigan State University, a Master of Science in Human Development, Counseling and Family Studies from the University of Rhode Island, and a Doctorate in Philosophy from MSU in the Higher, Adult, and Lifelong Education program. 
Dr. Sasakamoose holds the position of Professor and Chair of the Educational Psychology and Counselling subject area in the Faculty of Education at the University of Regina. Within her teaching portfolio, she offers diverse courses, including group counselling, counselling children and youth, counselling girls and women, Indigenous family therapies, and decolonizing research methodologies. Dr. Sasakamoose actively contributes as an adjunct faculty member of the University of Saskatchewan College of Medicine, where she plays a crucial role in supporting the decolonized training of early career healthcare professionals. 
Deeply committed to collaborative research, Dr. Sasakamoose actively engages with First Nations and Métis communities in Saskatchewan. Her notable contributions include co-authoring the Indigenous Cultural Responsiveness Theory (ICRT) in partnership with the Federation of Sovereign Indigenous Nations (FSIN). This theory serves as a guiding framework for research aimed at enhancing the health and well-being of Indigenous peoples. 
Dr. Sasakamoose is the Wellness Research Director of the Natawihowikamik Healing Lodge and Wellness Clinic and is launching the Indigenous Health Innovation Hub, a training collaborative at the University of Regina. The lodge is a unique training ground for professionals from diverse fields, promoting culturally responsive care through integrating Indigenous ways of knowing and evidence-based strategies. The lodge utilizes the "two-eyed seeing" approach to create a holistic environment for professionals to learn, grow, and develop their skills in serving communities with empathy, understanding, and respect. Focusing on Indigenous healing approaches, the Natawihowikamik Lodge fosters wellness, healing, and cultural responsiveness.
In addition, Dr. Sasakamoose served as the founding Research Director of the Wellness Wheel Medical Clinic and currently holds the position of co-scientific director of the Natawihowin First Nations Health and Wellness Network as a Principal Investigator for the Canadian Institutes of Health Research Network Environments for Indigenous Health Research program. Driven by a commitment to high-quality research, community engagement, and knowledge exchange, her work positively impacts the health and well-being of First Nations, Métis, and Indigenous peoples at local, national, and international levels.