Share online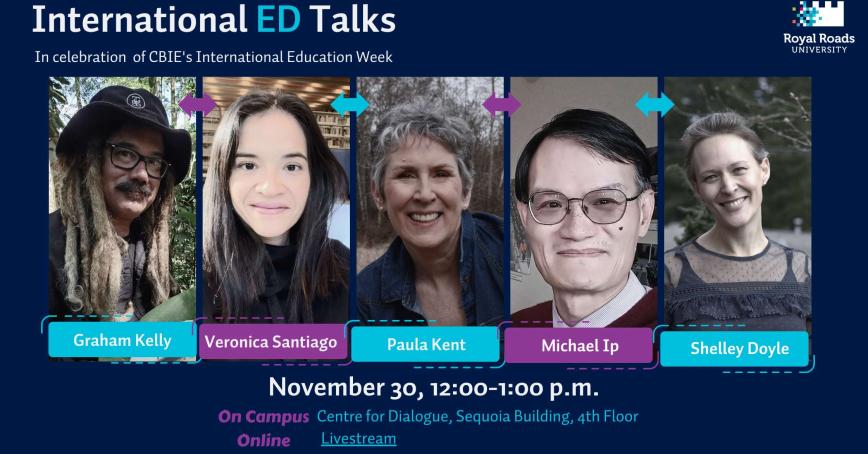 -
Timezone: PDT
On-Campus event
In person
Centre for Dialogue
Sequoia Building, 4th Floor
Royal Roads University BC V9B 5Y2
Canada
Get ready to be inspired, informed and possibly even challenged. 
In celebration of CBIE's International Education Week, we will once again be hosting International ED Talks. This year, we are delighted to be offering a blended event - both in person and livestream. 
Royal Roads International ED Talks are intended to spark conversations about the impact and significance of international education. Royal Roads students will be sharing insights about the impact of international education in five high-impact and thought-provoking presentations.
Please Show Your Support for International Ed Talks! In celebration of CBIE's International Education Week, Student Engagement presents International ED Talks, hosted by MGM student Omolola Sadiq-abu. These talks aim to ignite discussion about the profound impact and reach of international education. Royal Roads students will share their experiences and insights through five thought-provoking presentations. Join us on-campus or livestream!
Graham Kelly (MAIS) will recount an enlightening expedition into the Ecuadorian Amazon, where he discovered profound insights into spirituality and purpose. His academic field trip became a deep dive into self-discovery, challenging and strengthening his perspective on leadership and spirituality.
Veronica Santiago (MATM) will narrate her audacious path from adhering to traditional gender roles to becoming a trailblazing entrepreneur. Her journey from Mexico to the international business stage is a powerful call to action for women everywhere to reclaim their ambitions with courage and determination.
Paula Kent (DSocSci) will share her raw, inspiring story of personal reinvention through academia. She confronts ageism head-on, showcasing how learning and growth can turn life's challenges into a testament to resilience. This talk is a tribute to the power of embracing our vulnerabilities and turning them into catalysts for profound personal growth.
Michael Ip (MAEM) will recount his transformation from social worker to passionate advocate for food literacy and land preservation. His collaboration with an elderly farmer has led to a sustainable revolution in Hong Kong's agriculture, unifying the community under the banner of fair farming practices.
Shelley Doyle (MAIS) will take you through her inspiring journey from loneliness to belonging, shedding light on how to build and maintain meaningful relationships in today's world. Discover her unique approach to combating the loneliness epidemic and hear some tips for living a more connected and fulfilling life.
We hope to see you there!