Share online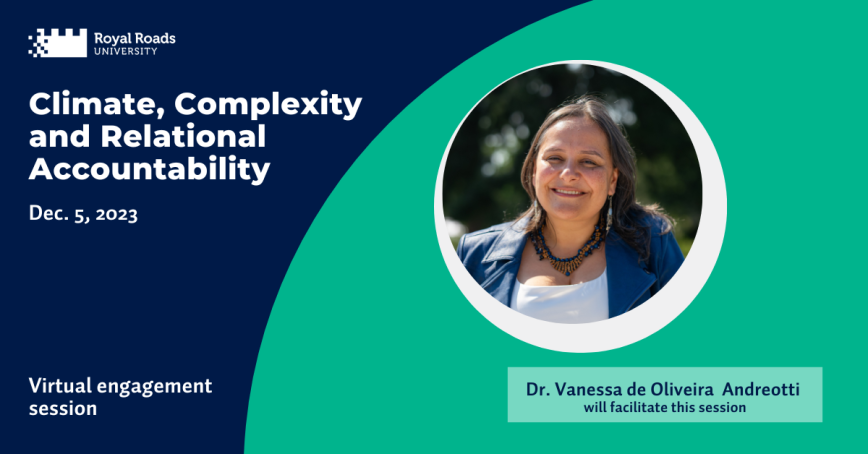 -
Timezone: PST
Virtual event
Online
Climate, Complexity & Relational Accountability
Join Royal Roads University and the Vanessa Andreotti (educator, scholar, author and activist) for a participatory exploration of relational accountability. 
SESSION IS FULL. REGISTRATION IS  NOW CLOSED. 
The climate and nature emergency are results of the ongoing systemic violence that we perpetuate towards one another and the planet we are part of. How can we show up to each other and to the planet differently in these challenging times? This session introduces a methodology designed to assist us in confronting the painful realities of climate destabilization and biodiversity loss, and the complexities of addressing these challenges, without feeling overwhelmed or immobilized. This methodology calls us to take 7 steps back from what can hinder our capacity to navigate complexity, to coordinate effectively and to exercise intergenerational responsibility. It also invites us to take 7 steps forward (or aside) to show up to each other and the planet with humility, patience, discernment, humour, compassion and accountability. 
Join us for what promises to be a perspective-shifting session!
To allow for meaningful virtual engagement, registration will be limited to 100 participants. 
More about the facilitator
Dr. Vanessa Andreotti
Vanessa is the Dean of the Faculty of Education at the University of Victoria. She is a former Canada Research Chair in Race, Inequalities and Global Change and a formed David Lam Chair in Critical Multicultural Education. Vanessa co-designed the Moving With Storms Climate and Nature Emergency Trans-disciplinary Program of the Peter Wall Institute for Advanced Studies at UBC. She is one of the co-founders of the Gesturing Towards Decolonial Futures Arts/Research Collective and the author of "Hospicing Modernity: Facing humanity's wrongs and the implications for social activism" (2021).