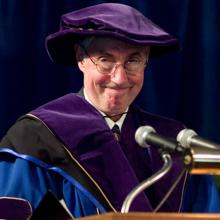 Dr. Ronald Bordessa
Honorary Degree
Spring 2006 Convocation
In his five years as Vice-President, Academic and Provost of Royal Roads University Dr. Ronald Bordessa has overseen the introduction and development of new programs and academic initiatives that have prompted significant enrolment growth for the university. In addition, during this time the applied research profile of Royal Roads University and its engagement of pressing issues in society and economy have taken their important place in the university's mandate. 
Dr. Bordessa was born in Wales and attended the University of Wales at Swansea, graduating with a Bachelor of Arts honours degree in Geography which was soon followed by doctoral research at Liverpool University, where he was awarded a PhD in Geography.
He was appointed to the geography department at Atkinson College at York University in Toronto while he was still a doctoral student. That appointment turned into more than three decades of service to York. During that period Dr. Bordessa's eclectic research interests resulted in publications that covered aspects of social life in urban areas, essays in literary studies, environmental issues and the politics of land development.
His professorial duties at York soon evolved to encompass an administrative academic role which evolved from a posting as a program coordinator for the urban studies program to becoming chair of both the Geography and Social Work departments. He was named associate dean and then dean of Atkinson College on two occasions - renamed the Atkinson Faculty of Liberal and Professional Studies under his leadership.
Bordessa was a visiting professor of Geography at the University of Western Australia in Perth and at Helsinki University and the University of Joensuu in Finland. During his two-year tenure at the University of Helsinki, Bordessa developed a strong and continuing interest in that country.
On July 1, 2006 Bordessa takes up the position of president of Ontario's newest university, the University of Ontario Institute of Technology, an institution that has learned from and built upon the educational innovations introduced by Royal Road University over the last decade.