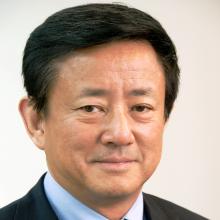 Dr. Fan Gang
Honorary Degree
Spring 2011 Convocation
As one of China's most influential economists, Prof. Fan Gang's insights are instrumental to the understanding of China's economy and its impact on the rest of the world. He is an expert in the macroeconomics of long-term development, international trade and currency, foreign relations and China's regional integration within Asia.
Prof. Fan Gang graduated from Hebei University with a B.A. in Economics in 1982, and went on to earn a M.A. and Ph.D from the Graduate School of Chinese Academy of Social Sciences in 1982 and 1988 respectively.
Based in Beijing, China, Prof. Fan Gang is the director of China's National Economic Research Institute and chairman of the China Reform Foundation.  He is also president of the China Development Institute and chief economist at the China Center for International Economic Exchanges. In addition, Prof. Fan Gang holds teaching positions at several of the top universities in the country, including Peking University and the Graduate School of Chinese Academy of Social Sciences.
Prof. Fan Gang consults to departments of the Chinese Central government and provincial government. He has also served as a senior advisor to international organizations such as the World Bank, the United Nations Development Program, the United Nations Economic and Social Commission for Asia and the Pacific, and the Organization for Economic Co-operation and Development. He has been a Fellow of the Chinese Economists Society (USA) since 1993, and a Fellow and Global Leader for Tomorrow of the World Economic Forum since 1995.
In Canada, Prof. Fan Gang has played an instrumental role in shaping Canada-China business relations since the early 1990s, providing insight and advice to Canadian academia, think-tanks, and corporations. He has also presented at the annual conference of the Canada China Business Council and the Team Canada Missions to China, which resulted in significant promotion of trade and investment between the two countries. In 2004, he received the Founder's Award from the Fraser Institute for his contribution to promoting market economy in China.
Prof. Fan Gang is an accomplished author, with eight books on macroeconomics and the economics of transition. He has written more than 80 academic papers, as well as more than 100 articles for magazines and newspapers. Currently he writes a monthly series called Enter the Dragon for the public benefit corporation Project Syndicate. This work analyses trends in China's economy and the impact they have globally.
Foreign Policy and Prospect magazines ranked Prof. Fan Gang 33rd in the World's Top 100 Public Intellectuals in 2008. In 1995, he was awarded Global Leader of Tomorrow by the World Economic Forum.