Related program area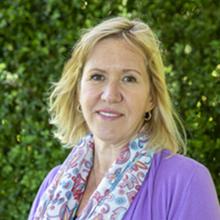 RRU has given me the confidence to pursue my next career move.
"I had been promising myself I was going to further my education for years. Finally, the right time presented itself, and I signed up at 55!
Having done strictly on-line courses in the past, I knew I'd need in-person social connections to successfully reach my goals. Royal Roads University's blended program was the perfect fit.
The cohort model allowed me to learn from and work with people from all over Canada – and the world. These differing perspectives provided the chance to put into practice the tenets of "global leadership" and embed them into my education.
As a professor and program coordinator in Humber College's Film & Television Production Program, I work with students from different corners of the world daily. The MA in Global Leadership program helped broaden my knowledge, perspectives and abilities to connect with widely diverse groups of people as I help them learn and grow as media professionals.
To anyone thinking about a master's degree in Global Leadership, I'd say, "Take a leap of faith, and learn more about your place in the world. It's an exciting, enlightening journey that's full of discovery about our planet and its people."