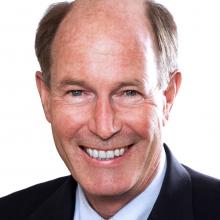 David Dodge
Honorary Degree
Fall 2013 Convocation
David Dodge is an admired and respected Canadian economist. With a reputation for telling it like it is, he is known for eloquently and convincingly expressing his opinions, whether popular or not.
Based in Ottawa, Dodge is a senior advisor with Bennett Jones where he counsels clients on national and international economic developments and their effect on businesses globally.
During his seven-year term as Bank of Canada governor, he deftly managed through several difficult economic events, including the terrorist attacks on Sept. 11, the dot-com busts, U.S. recession and Canada's involvement in the Afghanistan conflicts. Critics credit Dodge with keeping "inflation close to target," while promoting "strong job growth and the lowest unemployment in a generation."
Prior to joining the Bank of Canada in 2001, Dodge held senior positions in the Central Mortgage and Housing Corporation, the Anti-Inflation Board, and the Department of Employment and Immigration. After serving in a number of increasingly senior positions at the Department of Finance, including that of G-7 deputy, he was appointed Deputy Minister of Finance from 1992 to 1997. In that role, he served as a member of the Bank of Canada's board of directors. And, in 1998, he was appointed Deputy Minister of Health, a position he held until his appointment as governor of the Bank of Canada.
During his academic career, he taught economics at Queen's University; at the School of Advanced International Studies, Johns Hopkins University; at the Faculty of Commerce at the University of British Columbia; and at Simon Fraser University. He also served as director of the international economics program at the Institute for Research on Public Policy.
Dodge is currently chancellor of Queen's University. He is a member of the board of directors of Canadian Utilities Limited, the Canadian Institute for Advanced Research, the Bank of Nova Scotia and ATCO Ltd. He is the chair of Council of Canadian Academies' Expert Panel on STEM Skills for the Future, and co-chairs the global market monitoring group of the International Institute of Finance. In 2009, he was elected a fellow of the Royal Society of Canada.