Your temporary home away from home
Accommodations are available on campus for students attending in-person residencies.
Depending on availability, we may be able to accommodate students needing temporary short-term rooms outside of residencies.
Looking for long-term housing?
For long-term housing, explore off-campus housing and international homestay options.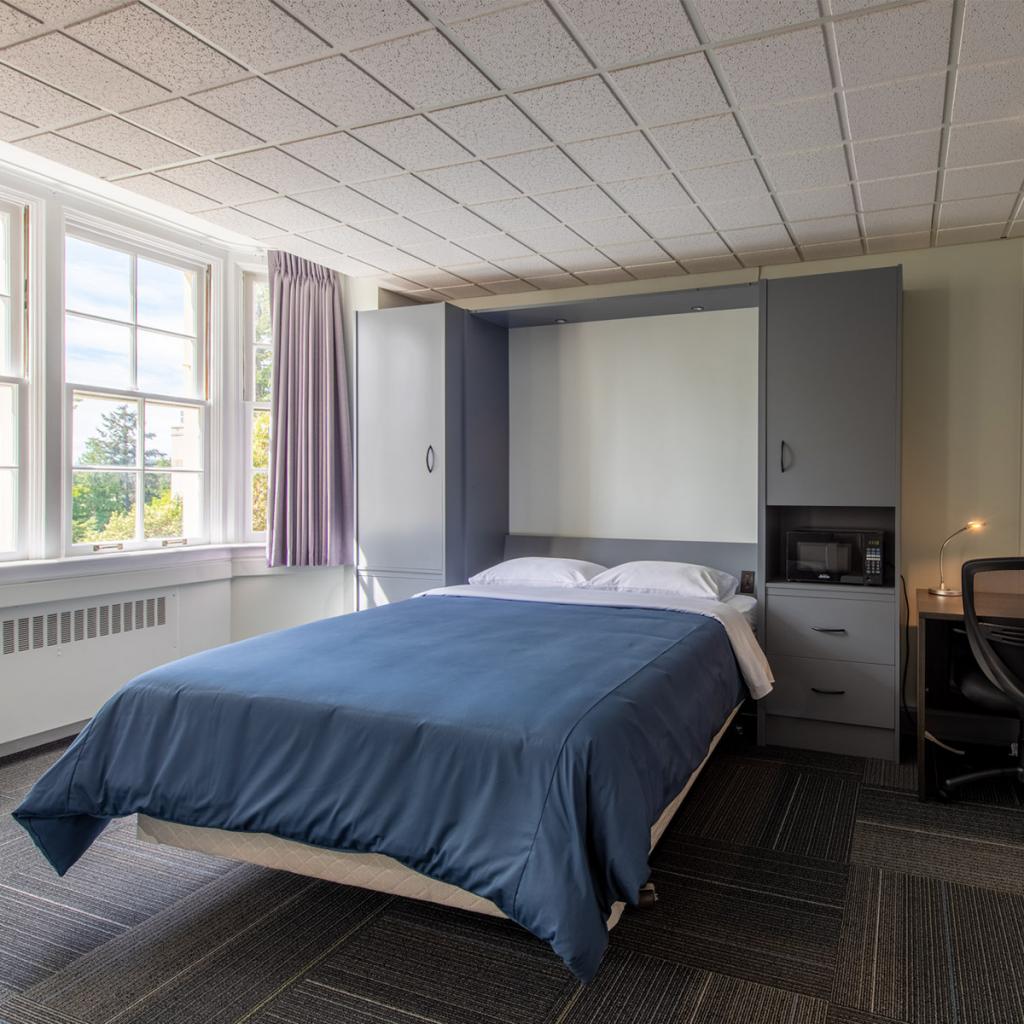 Rooms and amenities
The Nixon building will be your temporary home away from home while you're on campus attending a residency.
You can choose from two types of rooms:
private, single-occupancy rooms with en-suite washroom, mini fridge, microwave and coffee maker
dormitory-style single occupancy rooms with shared washrooms
We have 33 rooms with en-suite and 59 dorm rooms.
You're invited to make yourself at home during your stay. Student lounges on every floor include fridges, microwaves, coffee makers, toasters, kettles and cutlery.
You can also purchase healthy, fresh meals at the nearby Habitat Café seven days a week. You'll receive a bonus if you prepay for meals on a Value Card.
Accessible rooms
If you need a room with en-suite bathroom because of a medical condition or other accessibility need, speak with Accessibility Services to reserve your room. You can also request accessible parking for your stay.
Take a virtual tour of Nixon accommodations
Book a room for your residency
Before you can book a room, you'll need a program room block code from your program area. You'll receive the code two months before your residency starts. Use the code to book your stay online. You can stay the night before the first day of your residency until the day after your residency ends.
Book a temporary room
You can request to stay on campus for up to two weeks while you get settled in Victoria and look for long-term housing.
Email your request up to three months before your program's start date. Decisions will be made on a first come, first served basis. If we have space for you, we'll send you confirmation one month before your program starts.
Check-in
When you arrive on campus, proceed to the Welcome Desk on the main floor of the Sequoia building to check in, pay and collect your room key. The Welcome Desk is open from 8 a.m. to 6 p.m. weekdays and 10 a.m. to 6 p.m. on weekends and holidays.
After-hours check-in
If you're arriving outside of the Welcome Desk's open hours, you can check in by visiting Campus Security on the ground floor of the Millward building.
The next morning, visit the Welcome Desk to complete the check-in process.
Parking
The Central parking lot is the only lot on campus that allows overnight parking. You can buy your parking pass online.
After you check in at the Welcome Desk, you are welcome to drive over to the Millward building and leave your luggage with Campus Security while you find parking. Nixon, where you'll be staying, is right next door to Millward.
If you arrive by taxi, you can leave your luggage with Campus Security and walk to the Sequoia building to check in.
Campus map