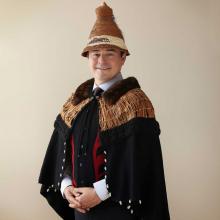 Chief Shawn A-in-chut Atleo
Honorary Degree
Fall 2015 Convocation
A Hereditary Chief from the Ahousaht First Nation on Vancouver Island, Shawn A-in-chut Atleo began his career as a facilitator, trainer and entrepreneur working with and for First Nations peoples.
With a strong focus on education, youth and empowering First Nations, A-in-chut was elected national chief of the Assembly of First Nations in 2009, and served two consecutive terms until 2014. Previously, he was the regional chief of British Columbia for two terms. Committed to the principles of working together through inclusion and respect, he forged the historic 2005 Leadership Accord among First Nations leaders in B.C, as well as advancing the Transformative Change Accord between First Nations and the provincial and federal governments.
A-in-chut has been a tireless advocate for First Nations in every region of the country. As national chief, he participated in the 2012 First Nations-Crown Gathering where First Nations chiefs and elders met with the federal government to set a direction for improving economic development, education reform and treaty implementation for all First Nations in Canada.
A-in-chut's family is building a legacy of advocating for and valuing education. His parents, Richard and Marlene, both hold PhDs focused on education, and his father was the first status Indian to receive a doctorate from the University of British Columbia. A-in-chut made history when he was appointed B.C.'s first Indigenous chancellor at Vancouver Island University in 2008. He has received 12 honorary degrees from Canadian post-secondary institutions. 
In 2014, A-in-chut was named the first Distinguished Fellow of the William A. MacDonald, Q.C. Fellowship in Indigenous Education at the Ontario Institute for Studies in Education at the University of Toronto. That same year, he was appointed to the role of Shqwi qwal (Speaker) for Indigenous Dialogue at Vancouver Island University.
He holds a Master of Education in Adult Learning and Global Change from the University of Technology, Sydney (in partnership with University of British Columbia, University of the Western Cape South Africa, and University of Linkoping Sweden). In 2011, he received the institution's Alumni Award for Excellence in the Faculty of Arts and Social Sciences.
In 2012, he was awarded the Queen Elizabeth II Diamond Jubilee Medal for his advocacy work on behalf of First Nations across Canada and in 2013 he received an Indspire Award for Education.
Hay'sxw'qa si'em!