Related program area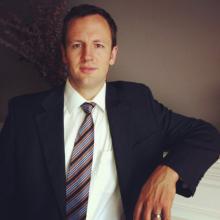 Today, I look at business problems with a real-world entrepreneurial vision.
"What initially drew me to Royal Roads was the ability to complete years 3 and 4 of my undergraduate degree in 12 months on-campus. This helped me save on costs and enter the workforce sooner. My studies helped fulfill the need I was looking for; the ability to look at business problems with a 'real-world' entrepreneurial vision.
My program challenged me emotionally and mentally, and provided me with foundational building blocks to overcome circumstances that would have crippled me without the preparation Royal Roads provided.
The cohort model is a necessary element for the Royal Roads program. It takes a wide range of learners from different cultures, ages, genders, and experiences and blends their experience to create a unique learning experience. This prepares you for the diversity in the teams you will work with throughout your career. The best teachers were not instructors, but facilitators of learning who used the cohort model and its diversity to teach the class and bring the participants into the learning.
Royal Roads opens doors and gives you the tools to capitalize on the experiences you are seeking."