Related program area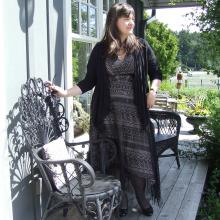 The range of experience, skills and expertise in my cohort strengthened our learning.
"I've always been driven to make a positive and significant difference in people's lives; empowering others to create integrated relationships that advance science and innovation.
I chose the Doctor of Social Sciences program at Royal Roads University because it suited my needs as a working professional; I realized it would further my research and work in helping others. I am a defence scientist with over 20 years of experience, specializing in diversity and inclusion, and psychosocial research that explores the science of team science alongside human factors. The blended learning format also gave me the ability to complete my degree from Ottawa, Ontario.
This program truly shaped my thinking, both academically and professionally; it challenges you to look at different perspectives from various theoretical and empirical paradigms. In my cohort, the diversity in our backgrounds created a greater foundational strength and learning capacity that we were able to leverage in discussions and projects.
I am strongly motivated to facilitate collaboration in the federal scientific research community, and I have been imparting my findings across the government. My doctorate establishes my capacity to produce rigorous studies designed to enable successful team outputs and outcomes, and my learning journey continues."