Related program area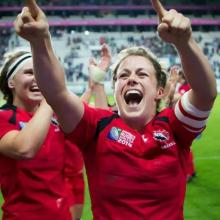 The theories and experience I gained have helped me understand the culture of my sport.
"While participating in the centralized 7s program with Rugby Canada, I enrolled at RRU. My goal was to build the skills to create high performing teams and cultures with the capacity to thrive in high-performing environments, essentially turning more training efforts into medal results. At the highest levels, everyone can have a great game plan, top technology, well-trained team members, but what sets a winning team apart is the people and the culture.
The Master of Arts in Leadership program at Royal Roads University appealed to me due to the advanced studies and flexible schedule. The blended learning model enabled me to work out a balanced schedule with my coach, but I didn't realize just how valuable the program's flexibility would be. At one point, I had to withdraw from a course due to an injury, but I was able to double up on another to stay on track. I was also able to take a brief leave of absence from my program to focus on World Cup preparations and then re-engage with the next cohort – which doubled my learning network and allowed me to complete my degree with nearly 100 like-minded students.
The theories and experience I gained from my time at RRU have helped me understand the culture of our sport, and enabled me to enact change within the teams and individuals I am involved with, such as the 2014 silver medal-winning World Cup team. I found RRU to be a highly valuable experience, and for other athletes concerned about balancing sport with advanced education, I would say working with RRU makes this wholly achievable."