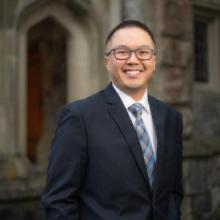 Nelson Chan
Chair and Chancellor, Lieutenant Governor in Council appointee
Board of Governors
Nelson Chan joined the Royal Roads University Board of Governors as a Lieutenant Governor in Council appointee in 2017 and has most recently served as the vice-chair of the Finance and Audit Committee. He was elected to the role of chancellor and board chair by the university's Board of Governors effective Jan. 1, 2020.
Chan is the chief financial officer for the Capital Regional District, Capital Regional Hospital District and Capital Region Housing Corporation. He has more than 20 years of experience in executive leadership and strategy, business transformation and tactical implementation in both the public and private sectors.
Prior to relocating to British Columbia from Ontario in 2016, Chan served as the director of finance for Canada Post Corporation, where his portfolio included corporate planning and controllership, collective bargaining and strategic investment. He also served on the pension advisory committee of the Canada Post Pension Plan, the largest single employer sponsored plan in Canada. Before joining Canada Post, Chan held senior roles at Roots Canada Ltd., WRH Realty Services Inc. in St. Petersburg, Florida and the Canadian division of Sega Amusements Inc.
In addition to serving on the Royal Roads University Board of Governors, Chan is also a member of the Board of Directors for Community Living BC, a provincial crown corporation which serves adults with developmental disabilities and their families. He has also served on the boards of the Natural Capital Lab and the Government Finance Officers Association of British Columbia.
Chan holds a Bachelor of Commerce with a minor in Economics from McMaster University and a Master of Business Administration from Florida Metropolitan University. He has also completed the Executive Leadership Program at the University of Toronto's Rotman School of Management. Chan is a Chartered Professional Accountant (CPA, CMA) in both Ontario and British Columbia.