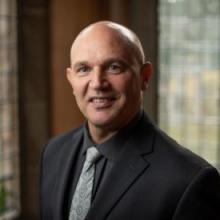 David Saunders, M.B.
Lieutenant Governor in Council appointee
Board of Governors
David Saunders was born and raised on Vancouver Island. He and his wife raised three daughters right next door to the university campus, where they often walked and enjoyed the transcending beauty of the Royal Roads lands.
He started young as an entrepreneur, and over 32 years, built successful businesses, including tree care, excavation, development, municipal development consulting, and land and rental holdings. He helped managed the Saunders family's Subaru dealership in Colwood for five years.
Active in the community, he is president of the Saunders Family Foundation and he is also the founder of the Comfy Kids Program. These initiatives provide support for community, families in need and children affected by cancer who must travel to BC Children's Hospital in Vancouver.
Saunders has an extensive public and municipal background. He was elected as a councillor for the City of Colwood in 2005 and as mayor in 2008. Before stepping back to spend more time with his family, Saunders held many appointments, including to the Metchosin Uplands Planning Commission, Westshore Parks and Recreation Society Board of Directors, Capital Regional District Core Area Liquid Waste Management Committee, CRD Solid Waste Advisory Committee as chair, CRD Environmental Sustainability Committee, CRD Board of Directors, City of Colwood Planning/Zoning as chair and Mayor's Task Force chair.
A longtime sports enthusiast, Saunders was head coach of the Juan de Fuca hockey young women's program, and coached for and served as president of Langford Minor Fastball.  
He was awarded the Medal of Bravery by the Governor General of Canada in 2005 for an act of heroism.