Related program area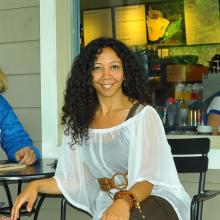 The sense of community within our cohort had a profound impact on my learning experience.
"In terms of expectations, my overall objective was to gain more knowledge on learning through technology, and that was accomplished.

Like everything in life, there are more-compatible and less-compatible personality types and facilitation styles, yet there is something to learn from each person and every situation we experience. Overall, the learning process at RRU was positive, and many of our instructors in the MA in Learning and Technology (MALAT) program were an inspiration. My personal experience has been that each and every instructor was accommodating and willing to support my needs.

The biggest life-changing experience for me is the difference occurring now within my professional life as a consequence of the learning in the program. I now have the expertise to develop virtual environments for entertainment, and it was the MALAT program that enabled me to gain specific knowledge on learning processes through technology. My newly acquired knowledge from RRU was the last piece required to facilitate fulfilling my passion for developing virtual environments for education that remains learner centred, gamified, and in support learning theory."