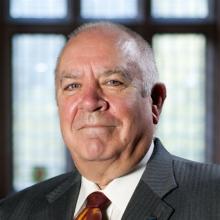 Wayne Strandlund
Chancellor's Community Recognition Award
Fall 2018 Convocation
Wayne Strandlund is a prominent Victoria businessperson; enthusiastic supporter of education, arts, culture and sports; and the former chancellor and chair of Royal Roads University's Board of Governors.
He is the founder and CEO of Fisgard Asset Management, a family-owned private mortgage banker. Since 1968, while operating his business, Strandlund has served as president of the Victoria Real Estate Board and the British Columbia Real Estate Association, director of the Real Estate Council of British Columbia, director of the Real Estate Compensation Fund Corporation and a governor of the Notary Foundation. 
Strandlund represented the real estate industry on the Treaty Negotiations Advisory Committee and the British Columbia Expropriation Association. He is a co-founder of the Canadian College for Chinese Studies, where he addressed international students on Canadian business. In 1983 he founded the Vancouver Stock Exchange's first publicly traded real estate company, specializing in marketing, construction, development and mortgage banking.
Recognized for his community support, he is an honorary life member of the Victoria Symphony and an honorary life member of the Naden Band of the Royal Canadian Navy. He is the recipient of the Unforgettable Award for Outstanding Service to the Arts in Victoria. An arts supporter, particularly of musical arts, he has contributed to musical success as a former president of the Victoria Conservatory of Music, former director of the Victoria Symphony and member of the Conductor's Circle and Advisory Council. His Extra Strings program and concert sponsorships enabled the orchestra to expand its repertoire and international reputation. He has sponsored fundraising concerts and festivals, including a multi-year sponsorship of Symphony in the Summer, the Mozart Festival at Butchart Gardens, the nine-concert Beethoven Festival and the Lieutenant Governor's Sing Me a Song program.
Strandlund and his family support organizations such as the Victoria Ballet and Dance Victoria, and regularly contribute to organizations such as the Salvation Army, Our Place, the Mustard Seed Food Bank and the Military Family Resource Centre.
Strandlund is a passionate ambassador for Royal Roads University. He served as Royal Roads University's fifth chancellor and board chair from 2014 to 2017, as chair of the governance and nominating committee and as a member on the finance and audit committee.
He is an ardent advocate for reconciliation with local Indigenous communities. In 2016, he started the Wayne Strandlund Award for Indigenous and Metis Students, an endowment fund created to help support Royal Roads University students through financial barriers.
Strandlund holds a Bachelor of Arts in English (Hons.) with a major in creative writing from the University of Victoria (1972).