Related program area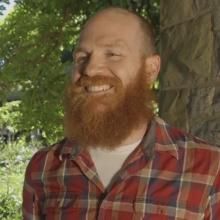 The collaborative nature of each class let me practice diplomacy and different leadership styles.
"I am a BC-certified teacher, and have been involved in experiential education programs in BC, the Yukon and Ontario. In my role as architect of an innovative instructional program for the 21st-century, I was greatly inspired by the courses and learning in the Master of Arts in Environmental Education and Communication program.
The cohort model is central to the experience; working closely and repeatedly with peers from a spectrum of backgrounds facilitates latent leadership and management learning. You clearly understand how different personalities, your own especially, can contribute to group success, and how to organize for efficient and effective goal attainment.
I learned a great deal about myself through my interactions with every instructor. They challenge you to communicate well and effectively, which is the key to avoiding conflict while achieving objectives. The compassion, wit and diamond-minded intelligence they brought to class was inspiring beyond words, and I learned much about excellence in education just from watching them teach.
RRU's student-centred approach, balance of digital and humanistic projects, and how they fostered engagement through self-expression have become fundamental to my own philosophy of education."