Using Slack as a teaching tool in my online course
Featured
Share online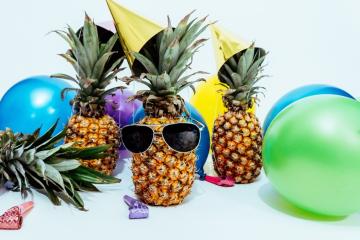 In the world of business, Slack is ubiquitous. In academia, not so much.
Co-created by BC-born Stewart Butterfield, Slack is a workplace communication tool with more than 12 million daily users; a dedicated messaging app for business, it serves as a single location not only for conversations — in lieu of email — but, also, files, specialty discussions and online communities.
But is the business app an effective teaching tool?
That's the question I set out to answer in teaching my Governance Innovations for Sustainability course this fall at Royal Roads University.
I've been using Slack exclusively for my research lab for the last two years and wanted to pilot the platform for my online Residency course.
Here's what I learned:
What worked for students — and instructor
First, some context: I run my graduate courses as seminars, not lectures. Engaged learning is the norm — i.e., students pre-read materials, and students and instructors share their interpretations and expertise during class meetings. As organizer, guide and facilitator, then, and with more than 50 students enrolled and online, I designed assignments that supported pre-learning; that involved in-class engagement and collaborative, nuanced interpretations; and that moved students toward an expansive understanding of scholarship beyond the course topic.
Take, for example, the first assignment, which was due on the first full day of our three-week Residency. Students had three pre-Residency weeks to read deeply, summarize and post to the publicly visible Slack #authorsurname channels for at least five of 10 assigned articles.  Students were also encouraged to read their peers' summary posts of any that they did not include in their own work.
With everyone using Slack as a public learning hub I could see what students understood or what was unclear from the course readings before Residency began, which helped me plan the Residency. At the same time, the students could use the #authorsurname channels as a searchable resource for subsequent course work, allowing students to better able connect and compare authors' ideas or positions across the foundation readings and show initially how they could apply those ideas to their own examples.
Most students spaced their summary submissions over time, and there was evidence that their efforts improved from their first to last summary. There were also indications that having classmates' submissions visible lifted the quality of all assignments — and with their foundation readings completed, students were well prepared by the time they reached our Residency's synchronous Zoom classroom.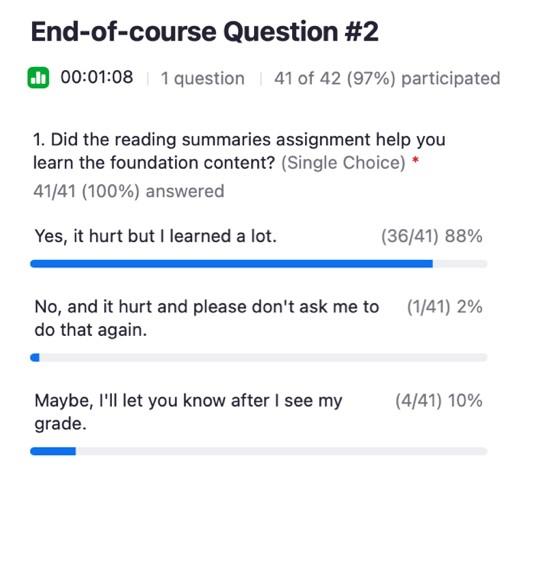 The students used Slack's #authorsurname channels as I'd intended: to connect more deeply during their subsequent discussion facilitator activities and, most critically, in their case analysis and application of governance ideas (group reports and presentations).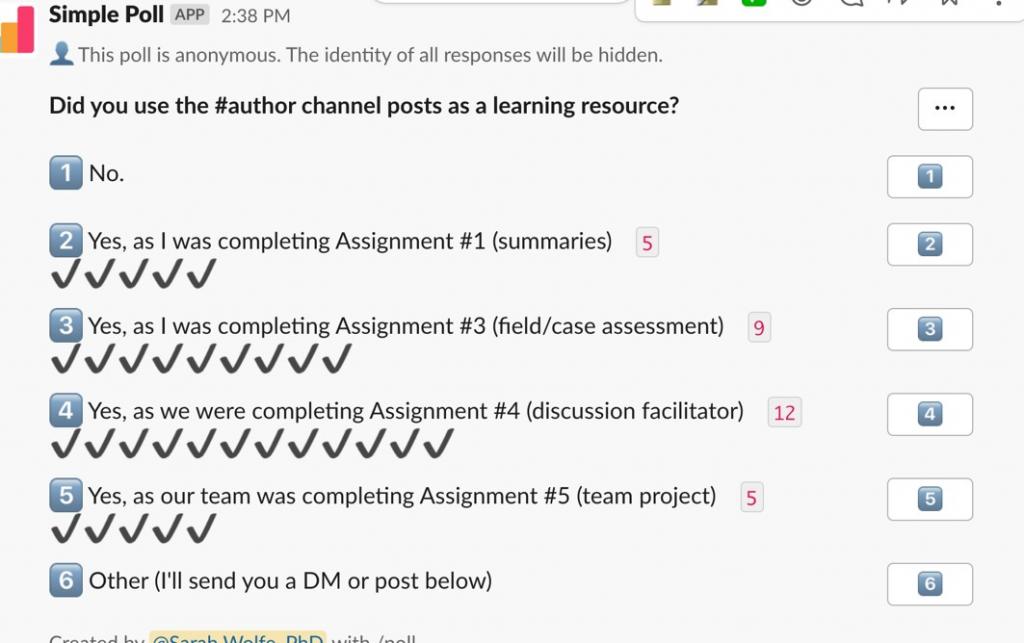 The challenges — no slacking on Slack
There's no hiding on Slack — not even for the professor. For example, with the summary assignments publicly viewable for all members of class, students could see I was not able to meet my intended goal of a one-week turnaround time on all grading. 
There's also limited room for nuance or expansive, detailed feedback on every reading summary assignment, although that minor negative begat several positives. For instance, Slack makes it easy to engage through mini pull comments and emojis; and students also interacted with one another's reading posts by occasionally creating spinoff conversations and connections.
Another negative that became a positive was found among students who weren't initially Slack fans. They had just a single primary channel they needed to check (beyond their assignment submission channels): #coursespecific_admin_or_questions, a convenient, searchable, one-stop shop that didn't require multiple Moodle clicks or emails to find or track information. (Important: I also used a syllabus, posting it both in Slack and directly distributing it on the first day of class. Students indicated that they appreciated having all information in one place and printable as a break from on-screen information.)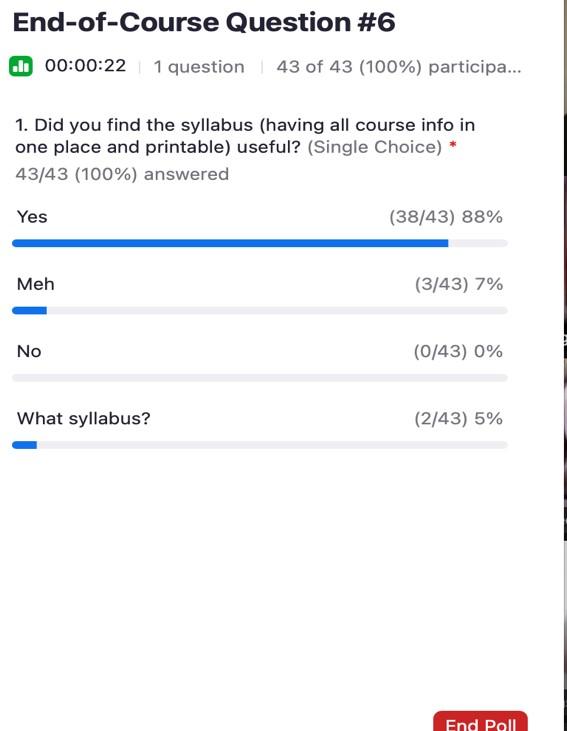 I could also easily respond to students' questions on this central channel and make the responses visible to all.
For those students who wanted to explore further, there were multiple contributions and peer sharing-learning opportunities across the "resources" channels (#resources course related, #team presentation slides). We also co-created consistent engagement — and some silly fun — across the "community" channels. For example, #no numb bums was for posting primarily pet, food and garden photos from our 15-minute classroom breaks; #celebrations for the things we celebrated from lives outside of class; and #random_fun for family-friendly memes.
 
Education, engagement and enjoyment
What surprised me was how seamless and fun it could be to use Slack as an interface during class for real-time activities. We used Slack to consolidate learning (#learning consolidation) of foundation concepts in Week 1; to debate (#be it resolved that) and apply concepts to cases in Week 2 and to deepen subsequent class discussions. To prompt this deeper exploration, we all toggled from the Zoom classroom to small group breakout rooms to Slack channels to post our thoughts or read others', and then back to our Zoom for a large group debrief. This activities combination led to consistent and strong uptake by the "quiet" students who were less likely to have their cameras on or to speak up during synchronous class discussions as well as those with limited technology, unreliable wireless or students for whom English is not their first language.
In a poll, the majority of students reported that they enjoyed using Slack while students' direct messages (DMs) told me that some were initially overwhelmed but very quickly came to appreciate its usefulness. I'd hosted one get-to-know-Slack session in the first day of Residency, posted some mini challenges to get people comfortable with using Slack — find the pineapple! — and was grateful to see student-to-student co-learning through the #general_how to channel.
It appeared that everyone was posting and/or reading Slack daily during Residency. In fact, Slack analytics showed me in real time that pre-Residency, the public channels and DM options were working well, with consistent engagement. During Residency, there were fewer posts to channels but increased DMs, consistent with the more collaborative assignments due at that time.
But back to that initial question: Is the business app an effective teaching tool?
I say it is: Even using its most basic functionality, Slack is a powerful virtual idea exchange that offers the emotive power of texting and visual emojis, real-time conversation opportunities through DMs, easy organization, searchability and distribution of information through the #channels. These features all contributed to creation of a responsive, interactive and productive learning community that aids both students and instructors. Plus, it was a great way to build classroom community during a second year of pandemic online teaching.

Students' Reflections – Katie Burton
"My team used Slack in the first MEM residency as a messaging system to coordinate the team. It is used in the same regard for a governance group I belong to on Slack that consists of self-proclaimed governance geeks. While I had used the app previously, I had not thought of using it in Professor Wolfe's format for ENVR 655. Doing so I saw Slack become a resource tool supporting students and Professor Wolfe in authentically integrating our knowledge and perspectives into the course content.
Professor Wolfe set up various channels, some of which were mandatory as part of the class and others just for fun. I was surprised to see how engaged students were even with them just for fun channels. Students engaging beyond the class's foundational concepts with Slack provided the opportunity to communicate and collaborate across remote distances while learning more about each other outside of the classroom, which facilitated a sense of belonging that, for me, had previously been a challenge through one line learning. Instead, Slack provided a tool wherein real-time, students could interact individually, in teams, with Dr. Wolfe, or with the whole class when we needed a quick response to a question.
Initially, I found myself resenting learning yet another app. However, once I leaned into it, I was pleasantly surprised how my attitude quickly turned as I saw how much more communicative and supportive we were of each other both inside and outside of class."