Related program area
Theme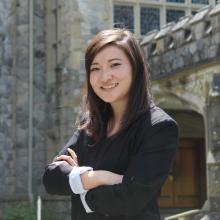 Words can't express how grateful I am for this educational journey.
"Growing up in South America, it was always my dream to pursue higher education in Canada. I knew there would be challenges, but I was determined.
Royal Roads built upon my background in business administration and expanded my knowledge to encompass the sustainable aspects of global business management. The Bachelor of Business Administration program recognized my two years of college and unique insights as an international student, and I was encouraged to lend my voice and share my perspective in the classroom. I continue to do so today, applying everything I've learned to help lead sustainable change in my workplace.
This is not your average university experience. At RRU, you become a part of something greater: a team of passionate, like-minded individuals working for the same goals. The instructors are always there for you and ready to offer guidance, even after graduation. Your cohort, too—you'll cultivate an incredible professional network that you'll keep for life.
I now work for an amazing company, one that believes in me and encourages me to reach my potential. I couldn't have done it without RRU. I've grown immensely, both personally and professionally, because of this experience."