Leadership in Extraordinary Times: A MAL Alum Perspective
Featured
Share online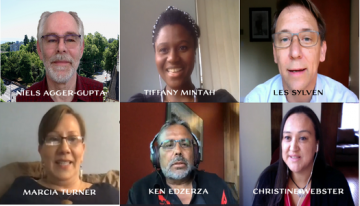 Connecting alumni and students 
A common refrain from current students is that they would love to hear from people who have graduated from the Master of Arts in Leadership (MAL) program. In July 2020, students from the summer 2020 MAL residencies (Residency 1 - 2020-3 cohort and Residency 2 - 2019-3 cohort) had a chance to hear from some alums when they were invited to attend an optional series of early morning half-hour sessions with alums of the MAL program, that we called, "Leadership in Extraordinary Times: A MAL Alum perspective." Five alums were in conversation with Program Head, Niels Agger-Gupta, and with a few students who had a chance to ask questions.
It was a particularly early start to the day, as these events started at 6:30 AM, an hour ahead of the start time of the daily residency for the Second Residency, who were working on the business hours of Mountain Daylight time. Alums spoke about what they are doing now, how they make use of what they have learned in the MAL program, their thoughts about what was important to them in the first and second year in the program, what happened in their capstone, and how they are navigating their current leadership issues.
All guests and the students appearing in these videos agreed to this video being made public. My thanks to Ken Edzerza, Marcia Turner, Les Sylvan, Tiffany Mintah, and Christine Webster for starting your day extra early with me and contributing to our learning!
Check out the recordings below: